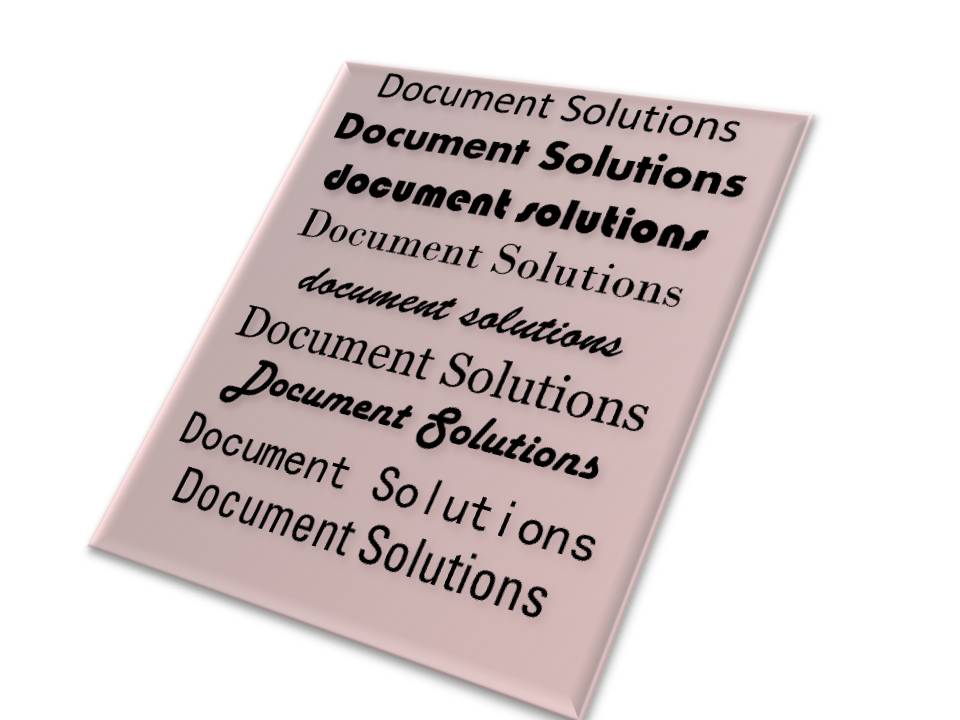 Document solutions, document solutions, document solutions. It seems like every webinar notice, every new product announcement and every article I see in the past few months is talking about document solutions.
In fact Kyocera has recently renamed the whole print and software component of the company to Kyocera Document Solutions.
So why is this such a big thing?
The industry has learned that selling a hardware device that prints and copies is not enough these days. Of course lots of customers are still buying this way but the industry has determined that the real value in the long term is about how these devices and the related software tools that go with them will impact the productivity and in the end the business of purchasers.
Its kind of like the car industry taking an interest in where you plan on going in your new vehicle before they sell it to you....does that happen? I don't really think so. Maybe print hardware use is better defined.
Of course to be of value, those or us who are acting as advisors in the industry, will need to be able to have more indepth discussion with clients as we prepare for sales and implementation. The traditional feeds and speeds will not be enough. Clients on the other hand will need to tell us where they see their operations headed, take the time for more in depth discussions and not focus on just getting the price and moving on.
Clients will need to tell us much more;
how they want to account for their printing,

what uses they will make of scanning in detail,

is fax still a mission critical application?

what paper types and sizes will they use?

what software will be accessing the device?

will it be feeding a document management system?

will they need a new document management system as part of the contract?

what volumes would they like to migrate from other devices?

will remote users need to access the device?

is a virtual desktop environment involved?

will mobile users be accessing the device?

do they need mono or colour output?

what security needs do they have?

does centralized device administration have value to the client?

do scanning needs require post scan conversion to additional file types?

will post scan capture tools be used on scanned files?

what types of documents will be typically be handled by any devices involved?

what legacy devices will be in the network along with any new equipment?
The list of questions and considerations grows every day. When you think that there are at least ten major vendors of print devices and at least a dozen additional print device vendors in the market and each of them offers many software tools which interface to their devices the ability to decide what purchase you wish to make gets more and more confusing.
One good thing is that many third party tools will interface with most of the vendors' products, but each vendor also has created some unique tools designed to work with their own hardware most effectively.
The end focus of all of this discussion has to come back to what does any given client wish to accomplish out of their document solutions.
When we started this blog, Office Document Strategies, over two and half years ago it was responding to this growing trend in business. Looking at how various tools and approaches could be applied to business's office document needs was something we figured could be of value. We have seen that we are not the only ones who think this is a legitimate business need now and for the forseeable future as more focus is brought to document solutions.
Trying to keep abreast of this rapidly changing field when we live with it each day is a challenge. We can only imagine how our customers, clients and those who read and research are feeling about it....given that this is not their primary focus in their busy business day. At times they must get over whelmed.
For those who track the industry and seek to improve its delivery to clients I commend you for trying to help. Daily interactions are less about making sales (although without them none of us will exist to be of assistance) and more about translating, guiding a discussion and informing of possibilities. Discussing the long list of items that need to be known to make a suitable recommendation takes effort, knowledge and time. It must be invested to give good results.
The list provided above is not intended to be comprehensive. It is simply indicative of the types of questions that a good installation will need to address. Many clients are considering these things and more.
What questions or answers are missing? What document solutions do you need in your business? Do you find yourself talking about the hardware and forgetting the solution?
Share your thoughts below....
Lee K