Is Electronic Filing Legal?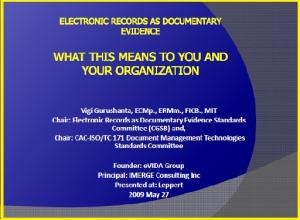 Keeping track of paper files is a problem for all businesses! With the high capacity of computers and the ability to have scanning in every office, storing important records electronically makes sense.
But what about the legalities? Is it legal to do this? What needs to be considered if you decide it is the right solution for you?
At the Leppert Open House, Vigi Gurushanta, ECMp., ERMm., FICB., MIT, one of the lead experts in this field answered these questions!
Download a FREE copy of his presentation notes and learn more about the whys, wherefores and hows of making sure your record retentions system is designed to comply with the legislation of concern.
Before you start into electronic filing, make sure that your system will comply and protect you from potential legal challenges.
CAUTION! Filing your records into the simple windows filing system does not comply....more design is needed!
Download Electronic Records as Documentary Evidence - What This Means to You and Your Organization and learn from an expert!
Electronic Records Download