Postbase Postage Meters
FP Postbase postage meters add convenience and ease of use
Postbase meters come in different speeds, six colours and with several optional features so you can customize the device that best matches your unique needs.
If you need something small for occasional or low volume use you might like to consider the Postbase Mini, the smallest unit in the fleet.
As your needs increase you pick the model that best fits your needs. Of course we can always help you make the right choice.
30 letters per minute speed

Integrated 3 kg scale

Colour touchscreen

Optional moistener, Optional catch tray available

Optional differential weighing

Standard LAN for high speed postage downloads via internet

Optional touchscreen all in one PC control

PC control software included
Postbase 45 is first to offer auto feed option:
45 letters per minute speed

Standard catch tray

5 kg integrated scale

Semi auto feed, optional full auto feed/sealer available

Moistener included

Differential weighing

LAN based high speed postage download via internet

Optional touch screen all in one computer control

PC control software included
Postbase 65 speed, full auto feeder/sealer:
65 letters per minute speed

7 KG integrated scale

Standard auto feeder with sealer

Differential weighing

LAN based high speed postage downloads via internet

50 Cost account codes standard, 100/200 optional

Customizable adverts (up to 30) can print alongside your postage stamp

PC control software included
Postbase 125-125 Plus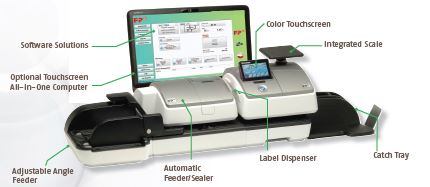 Quiet, Fast, Performance

125 letters per minute thruput

7KG integrated scale

Standard auto feeder with sealer

Differential weighing (125 Plus)

LAN based high speed postage downloads via internet

PC control software included

Customizable adverts

50 cost accounts standard can print alongside your postage stamp
Colour Touch screen display

Print system

Self adhesive label dispenser

Letter catcher

High volume envelope stacker

Automatic high speed letter feeder

High capacity letter stacking

Letter processing speed (90 lprm in dynamic mode)

High capacity postage scale in kg/Differential weighing

Dynamic weighing system

Highspeed-LAN