Optimail Postage Meter For Mid Volume Daily Use
For daily mail with the optimail 30 is an ideal solution. This semi-automatic postage meter from FP will meet the needs of a small business or branch offices not demanding higher volume output.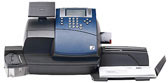 Get maximum utility out of your consumables while enjoying a professional and reliable postage machine experience.
Learn More About Optimail With This Video