One of the documents that is most frequently referenced from our collection of office document tools is the Guide to Postage Meters Canada. This document outlines many of the hidden and confusing practices of the postage meter industry.
When the guide was originally published we thought it would be a quick outline which might interest a few people. In fact it has become one of our most often chosen tools and it has been downloaded by thousands of readers. Hopefully, it has helped them make better choices when acquiring postage meters and other mail system tools.
Recently it was decided that the guide should undergo a review especially since the mail world in Canada has changed with new postal rates and a revised rate structure from Canada Post. One key feature of the new rate structure is that meter users enjoy a lower per indicia price than if using pre-printed stamps. This is a significant change which can benefit large mailers as well as small businesses who have lower mail volumes.
Guide Highlights: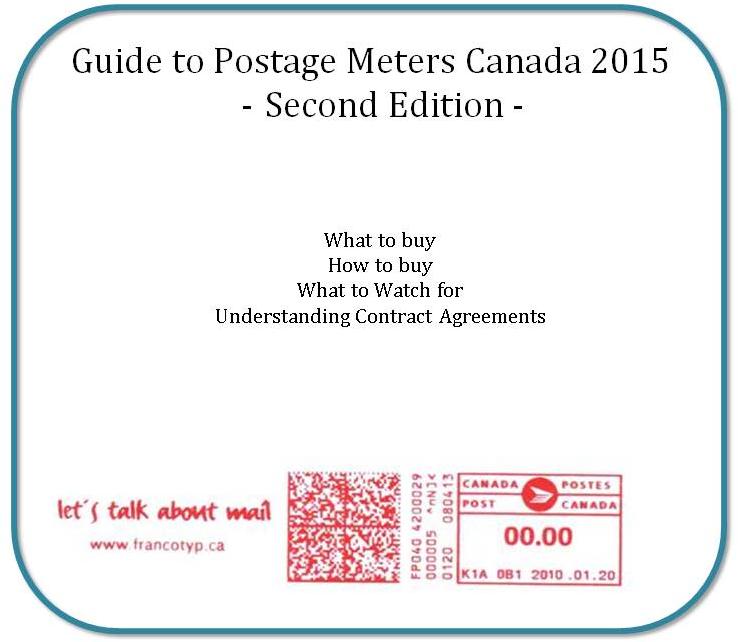 The guide continues to focus on the contract terms of the three postage manufacturers who provide meters in Canada. It also expands on the options and choices that purchasers might need.
Part One
WHY YOU SHOULD USE A POSTAGE METER.
Postal discount – Canada Post provides a reduced rate on metered mail vs postage stamps
Avoid over posting – a meter with scale will ensure you are always putting the proper amount on your mail piece
Avoid misplacing or loosing stamps – the lock on your postage machine allows for increased security.
Convenience – always have the most up to date rate to avoid mail being returned for insufficient postage.
Postmark advertising – text capability can increase sales by imprinting a bold clear advertising message. Or you could also print your return address on the envelope
Postage accounting – options to set up individual cost accounts for increased management of postal funds
Postal consultation – assistance in finding a way to reduce costs on large mail runs and improves efficiency.
Prestige – Messy, unprofessional looking envelopes are not good for your image. Instead provide a professional appearance your successful business deserves.
Quicker mail delivery – Metered mail being postmarked and dated at your office gets preferential handling through the post office.
Employee benefits – Eliminates having to manually seal and affix postage on mail pieces, especially large runs.

HOW DO YOU DECIDE WHAT METER YOU REQUIRE?
FOR SMALL OFFICES:
Each of the three vendors in Canada offer a meter that is targeted to small businesses sending only a few letters each day. Typically these meters use an impression method requiring the user to insert the envelope, wait a few seconds while the indicia is printed on the letter and then you manually remove it from the meter. A sample of this kind of machine would be a myMail great for small batches of mail but due to the slowness of this process if you do mail outs of a larger number of mail pieces, even 60 at a time, you will find the entry level meters too tedious. Also at that level you may find moving up a level may actually lower your cost of operation and you end in spending the same amount but have the convenience of a semi auto sealer
FOR WORKGROUPS – MEDIUM DUTY
The next step is a semi-auto meter that can pull the letters through a manual feed sealer, then the meter will grab the mail piece, imprint an indicia and send it out the other side. These meters offer more efficiency, integrated rating scales, semi-automatic moisteners and often a series of buttons for frequently used rates. A typical unit of this type is a Francotyp-Postalia Postbase 30.
These meters are less costly to run as well. Doing a stack of 100 or more letters once in a while will be okay on one of these, but don't plan on doing it every day or you will wish you chose a more efficient unit like a lower volume automatic.The next step up are meters which are designed with automatic feeders so that a stack of mail can be placed on the postage machine and processed without the operator having to hold the stack. These machines will process larger volumes on steady runs and will offer various speed ranges to reflect the throughput needs of your office.
An example of this level of machine would be the Postbase 45 which is your entry level automatic machine series from FP. For increased volumes you may want to look at the Postbase 65 or Postbase 85 which run faster and have a few added features.
FOR PRODUCTION MAILING
Top end postage machines provide many advanced features and can suit environments where many thousands of envelopes are processed. They can include automatic weighing and sizing of envelopes so mixed product can be efficiently handled. They have output conveyors so mail does not bind up as it is processed. For an example of this range of meter see how this level of mailing is handled with a short Centormail video.
No matter what your mailing volume, there is a mailing meter that can match your need. It is a tool which can make a daily process more efficient, provide security of postage and a quality output for your envelopes.
Watch later blogs for additional excerpts from the Guide To Postage Meters
Canada 2015 - Second Edition
Joanna W