Do you remember the Seinfeld episode from the Soup Nazi? – No Soup for You!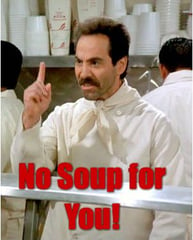 Recently, we welcomed a new client that was sent a letter from one of the three Canadian postage manufacturer's representatives saying that their customers will be suffering from their mailing systems untimely death. The date of execution, October 30th 2015.
This is unfortunate and not the first time manufacturers have pulled the rug out from under their customers with demands to upgrade or be left with a postage meter that doesn't work. I am sure, as a customer it might feel kind of like a dictatorship of sorts.
"Your.......Mailing System operates on legacy software with a planned end-of-life. This letter is intended to provide you with notice that your current mailing system will reach its scheduled end-of-life on October 30, 2015, after which time it will no longer be functionally capable of downloading funds from your .....Digital-Postage-On-Call (DPOC) Account."
This whole exercise has shades of the similar steps taken by Microsoft with the elimination of support for Windows XP and Server 2003 although at least in that case the software continued to function even though further support and security upgrades were not available.
Understand if you are a Postage Machine Customer receiving this type of notice, "YOU DO have options."
You don't need to upgrade and take a trade in offer that takes money out of your original investment.
It dawns on me as a Corporate Client Relationship Manager, I see this as an example of what business to business sales should NOT want to do and how NOT to treat your loyal customers.
I do understand a letter that might suggest that your machine may be hard to service as parts become extinct but just pulling the plug like that is in my opinion just bad taste. If it was me I would expect my clients would think twice for wanting to use my equipment if I have so little regard to the choice of when I as a business make decisions.
There are other manufacturer suppliers of postage machines in Canada and perhaps before accepting any upgrade offer from them their customers might want to check out their options.
Just saying…and that's my rant for the day!
Joanna W