In July 2015, Canada Post announced new proposed postage rates for implementation effective January 11 2016. There are always several components to a postal rate change as there are many categories of rate.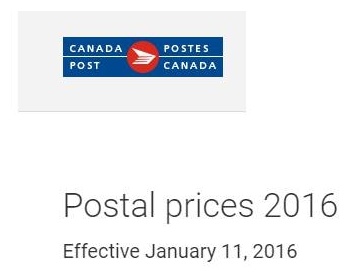 The rate most commonly looked at is the single stamp rate which is currently $1.00 per stamp, unchanged from the previous rate. In the July announcement Canada Post proposed to increase the bulk purchase rate (the way many people buy stamps in bundles of 10 or more) from $0.85 to $0.90 effective with the new rates.
Buried in the schedules were increases in other rates including the rate of metered or indicia postage. This is the rate that is charged on postage generated from postage meters which are commonly used by businesses to manage their postage.
In order to ensure that the increases are picked up correctly in the postage machine environment, Canada Post releases the information to the three postage machine manufacturers in advance of the official approval so they can undertake the software development and have enough time for users to upgrade their postage tables in the machines. This is a big task with thousands of postage machines scattered across the country and each manufacturer using their own proprietary software and method of update.
Information indicates that as of late December over 75% of the postage machines had been updated with others being done daily. This is generally a great system that should be efficient at getting things finalized without errors or delays.
What changed this time?
What is different this time is a change in government in October with the federal election and potentially a differing point of view on the operations of Canada Post. Without going too far and trying to confuse things further there are differences between what was announced in July 2015 and what is now posted as the Canada Post official rate which came effective on Monday of this week, January 11 2016.
According to the rate schedule published on the Canada Post website the bulk purchase rate is still set at $0.85 not the announced $0.90. Thus no increase in this category. Indicia rates for a standard letter sized mail piece are set at $0.80 an increase of $0.04 over the old rate. This is the rate that meters are now showing if the updated rates have been applied. Clearly there were some changes which came along after the July announcement since the rates proposed for bulk are different to what are announced for implementation.
Confusion
Where things get very confusing is in over sized, non standard, parcel and registered mail rates as there appears to be confusion over what the new rates are and what may have been provided to the manufacturers for inclusion in their updates.
By looking at the schedule linked above, the posted rate for an over sized, non standard mail piece with weight between 100g and 200g is $2.77. Testing on an updated postage meter shows a rate calculated by the software at $3.89 which is $1.12 or 40% higher than the posted rate that Canada Post has on its site. This is not a scientific study but does appear to indicate there may be some questions that arise on rates that had been communicated but are not now part of the new rate schedule. If someone is planning to do a large mailing using such postage then carefully checking the rate before printing the postage is definitely in order.
By looking at the available information as published in the Canada Gazette (Archived page) the proposed rate for this category of mail would have been $3.07
In searching to see if there is any information about some of the rates being altered before or after Canada Post's July announcement there is little information around. Canada Post addresses parcel and contract transactional direct mail but does not show a rate sheet for this that was easily found on their page. A web search indicates a few media pieces referencing the change in the bulk stamp rate but not much else.
Implications
Without trying to be a 'chicken little' it does appear that there are questions for users to raise around what has happened with the proposed changes in postage rate, especially for meter users. There may be instances where calculations are yielding postage amounts that do not reflect the actual rates as published by Canada Post. To be fair to them, the postage equipment manufacturers have to be given clear and easily followed, timely guidelines so they can make sure their rate tables reflect the right, approved rates. Whether this is currently 100% the case is a challenge to know. Understandably they do not want to have to keep going back to their customers to tell them to update their schedules and they also do not want to inadvertently give the wrong information to their customers.
In the end only Canada Post (and indirectly the government of Canada) can clear any confusion that is occurring around the rate changes this past week. Posting complete and easily found schedules on the website of Canada Post so everyone affected can easily determine what they should be paying is a first necessary step.
Assisting mail users to understand the correct rates and how to obtain them no matter what manner they access postage must be part of the solution.
It appears that for bulk stamp purchases and metered standard letter the rates are $0.85 and $0.80 respectively. For single stamp they are still $1.00. Figuring out others will take a bit of checking. Canada Post does provide an online tool which can give you a rate if you are not sure and for the time being it might be worthwhile using it to ensure you are actually putting the right postage on your pieces.
Hopefully, these questions will be cleared up soon and the integrity of the Canadian mail system will get back to a solid base.
Lee K