My wife and I recently had the opportunity to go on a cruise on the Holland American Line and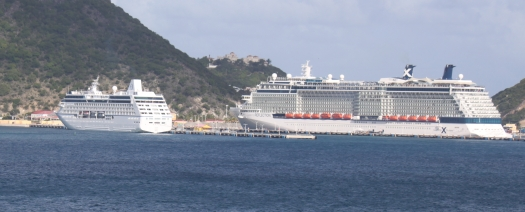 one of the interesting features of the cruise was a very popular activity hosted by Microsoft. On board there was a lady called Emily who was billed as a TechExpert and who conducted daily Digital Workshops with about 50% of them focused on using Windows 8 to improve your computing experience.
Improving your computing experience with Windows 8
Anyone who has followed the controversy around the introduction of Windows 8 about a year ago, will know that improving your computing experience is not one of the popular streams of thought around this new operating system from Microsoft. I have to admit that I have been personally less than enamoured with the system and have wondered if it would ever get acceptance. Current reports show that only about 8% of PC's worldwide use this OS, a much slower adoption rate than Windows 7 the current most popular Microsoft platform.
After sitting in on a couple of Emily's workshops I was not only impressed with her skills and abilities to make what seems complex, simple, I was also pleasantly surprised to learn a number of things that made Windows 8 and the current upgrade, Windows 8.1 (FREE) more of a positive experience.
I have not spent a lot of time with Windows 8 except when my wife who has a Lenovo Twist laptop with Windows 8 needs some help with her PC. After watching Emily and learning from her explanation about the OS I found myself actually wishing the PC I use regularly (the one I am writing this blog upon) had some of the Windows 8 features she showed us.
Here's some key items she outlined I had never thought of before:
The start screen interface which includes the various sized boxes (tiles) and descriptions (Charms in MS parlance) is designed for running APPS.

APPS in Windows 8 are just like APPS for Apple smart phones or Android devices; small specialized pieces of software designed to do limited things easily and directly.

The desktop in Windows 8 (now available as default on boot up with Windows 8.1) is designed for running PROGRAMS; software packages which we are more familiar with that have many features and many indepth capabilities and are designed to do more complex things. These bigger tools do many more things than a single APP.

Virtually anything you wish to do with any Charm can be controlled using a right click of the mouse when on the Charm or by accessing the settings selection from the right had pull in section. The settings selection is 'smart' offering the specific settings that are available for working with the APP or PROGRAM which has been selected, either by the mouse or from the touch screen if your computer has one available.

Charms or tiles can be removed using a right click of the mouse or from the settings box, essentially hiding them as you would a program icon from your desktop under older Windows operating system.
The intent under Windows 8 is that you customize your own device by creating a customized smart screen that only shows the Charms or Tiles that you wish to work with, organized into groupings you create to make them easy to find and manage. If you don't need the APP readily you can un select it from the Start screen and it is hidden away.

One of the key features of the Charms is that many of them can be 'smart' providing constantly updated information by linking out through your internet connection to pull current data for you. Thus your custom news Charm can be constantly updated, your weather Charm can show you choice of location and data, your sports Charm can have the running scores or your business Charm could be running a ticker tape of stock prices. You create the streams you want and turn off the ones you don't need.
These are just a few of the items which were shown. The potential to build the dashboard you want holds a lot of power I think. Taking the time to create it can definately show dividends.
One final thing that I observed was that on a ship where people were seeking leisure, the TechExpert sessions were highly subscribed with a standing room only crowd always ready to go into the next session (there were several a day on varying topics) and many people came out commenting that they had been confused over Windows 8, whether they had used it before or not. Most of those I talked to said they were very positively surprised with what they saw and learned.
Does this small sample indicate that the problems of Windows 8 in the market are over. Not at all. What they do show is that if proper training, focused on how people can use the system and benefit from it is a part of an implementation then a win can be found.
It seems to me this is one of Microsoft's challenges, especially since for the IT support community, the idea of customizing a desktop for each user is completely contrary to the manner in which IT support has always been done.
One of the key features of the TechExpert programs for Holland America is their sponsorship by Microsoft. The total cost of the room, computers and the personel is paid by Microsoft and it is offered across the fleet of Holland America ships free of charge to passengers. In my mind this is a very innovative way to expose a group of potential buyers to the new ideas of Windows 8 | 8.1 very effectively. Smart marketing by Microsoft.
For anyone interested in checking out some of the sessions and tips you can access them here. Up till attending these sessions I could not see any way I would want to take the time and effort to adopt Windows 8 on my computer. Having been through a couple of these sessions I can see many benefits.
My one tip would be if you are upgrading to a new computer and considering Windows 8 buy one with touch screen capability. The OS works much easier in this mode and the mouse is a great additional tool rather than the primary interface. Oddly, one of the key things stressed by Emily was to learn the key board short cuts that are built into Windows 8 and you will have a much better experience.
Have you tried Windows 8? Has it been something you are afraid to buy? Have you found tricks in Windows 8 you could share?
Lee K
 Photo Credit:  LLK, ST. Maarten Harbour Phillipsburg