Microsoft has recently announced the replacement program for Windows 8/8.1 and it has been named Windows 10. You might ask, where did Windows 9 go but there does not seem to be any specific explanation as to the choice for the new system other than Microsoft's assertion that the new Windows will be so different (I'm sure many are saying, "not again"), that to simply use an incremental name would not be appropriate.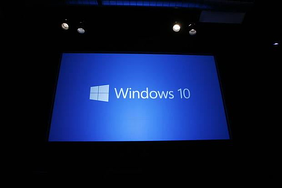 Windows 10 is very much in the development stage so don't expect to see it on your new computer for some time. That is probably a good thing since the number of users worldwide that have not changed over to Windows 8 is still massive. Current thoughts indicate late 2015 is the target launch date for general release.
"Microsoft plans to deliver on the promise of the unified platform through Windows 10. The OS will run across the entire range of devices, gadgets, and PCs. Myerson explained that there will be one store, one way for apps to be discovered, purchased, and updated across all Windows 10 devices." Tech Republic
For those intrepid souls who just have to try out the newest and greatest it is possible to access a an "Insider's" preview of the new software and to provide feedback to Microsoft on your experience. This is targeted at the professional IT user and at development pros so it is not really designed for the casual end user. If you feel the need to take a look then you can access the Insider Preview here.
It seems that Microsoft may have learned a big lesson with the backlash that came with the release of Windows 8 and its much changed interface. By making the new Windows 10 system available to those in the IT community that are disposed to try something new, even when not finalized, they can potentially head off the aggressive anti change response that has been seen with Windows 8.
Given the focus of the new system, a operating system that can be common across all of the many computing platforms now used by users, getting early and broad input will be an important part of the potential of Windows 10. When you figure the differences needed to support desktop, smart phone, tablets, game consoles and other gadgets that now make up the computing world the task before any operating system development group is daunting. For a system that is so pervasive in so many forms as the Windows OS is it is even tougher.
Whatever your interest the announcement of a timeline and a focus on a new Windows operating system is going to add pressures to an already confusing IT world. Given the difficulty to get users to upgrade OS systems without needing a hardware upgrade in the process moving them to a new Windows OS is going to be a challenge at any time. When Windows 8/8.1 is still not established as the main desktop and laptop OS.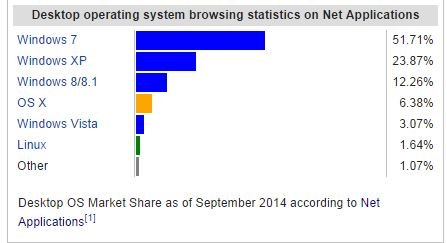 From this recent Wikipedia chart it can be seen that there is a long way to go before Windows 8/8.1 would be close to being the dominant installation.
This kind of lag in the market is a constant problem for Microsoft as they try to keep their OS software current with new trends in usage.
By going to a common platform for the many categories of computing they may find that the expansion of a new system will grow faster since many of the newer categories like smart phones and tablets experience a much faster refresh rate.
Only time will tell whether this will become a successful route however the more open approach to the introduction may help.
Keep your eyes open as there will be lots more reported about Windows 10 over the coming months as users get their hands on the early systems and the industry begins to comment on what is really there. Of course one of the risks that Microsoft takes with this release of the new plan is that many Windows 7 users will just continue to wait and not upgrade to Windows 8.1 along the way.
Will you wait for Windows 10 to upgrade from Windows 7?
Lee K
Photo credits:   Windows 10 - Nick Statt/CNET via Tech Republic, Usage Chart - Wikipedia.org