With the increasing concerns about personal and corporate privacy a properly designed paper shredding plan is necessary for all sizes of offices. Long gone are the days when any business can afford to throw documents in the waste without being sure they are destroyed in a secure fashion.
I operate in the Burlington Ontario area of Canada and within less than 20 minutes drive of our offices there are at least 6 companies which provide onsite shredding services. They bring their equipment to the door and destroy boxes of files easily. Most of these companies will offer a contracted service where they pick up the waste set for shredding and destroy it on a scheduled basis.
Why have these services become so popular? Mainly because larger organizations have learned that they can't take the chance of their paper record waste being inadvertently made available to the public. Dealing with this kind of security is something that most businesses want to simply setup and then ignor.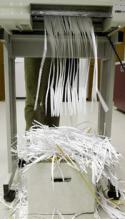 Many smaller businesses are not using a scheduled process or are more likely using no process at all. There are several steps to a simple paper record process.
Establish a destruction policy for all company paper which is deemed sensitive.
Define what is included in the list of sensitive documents. Here are some to consider.

Invoice records being destroyed

Client information

Any banking correspondence or records

Personnel information

Marketing notes on clients

System configuration data

Packing slips

Shipping record copies

Communicate to all employees the importance of handling secure data correctly. Make sure that each group of employees knows what is sensitive information for their work responsibilities.
Check regularly to be sure people are following procedure.
Provide an easy to use and easily identified location for sensitive documents to be placed for destruction. If centralized make sure that everyone knows how to get their material destroyed...or how to do it themselves.
Regularly remind employees of the importance of this process.
Paper shredding is not an exciting area of concern but the implications of not developing this process are serious. Whether you decide that out sourced shredding or a suitable office or personal shredding device is the right solution for your business does not matter. Ensuring that everyone knows the importance of using the provided tools does.
Good shredding!
Lee K
Check out the Kobra video of one of the most efficient production paper shredders available for office use...its pretty neat to see.
Of course one of the best ways to shred is to avoid the paper in the first place....check out 9 Red Flags to Avoid in Document Management!