Being able to properly identify your company or product on the internet can be a challenge. No matter what documents or strategies you use picking the keywords for your domain is important.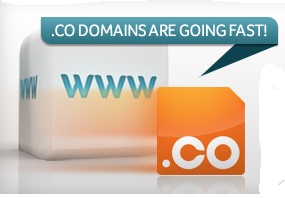 If you are looking to obtain another domain for your company or are looking for your first one and have found that the popular .com domain extension does not permit you to have a good representation for your needs, then you now have a new commercially focused choice.
The .CO domain is now available...think of how many times you use this short form...its in COmpany, COporation, Commerce and many other business descriptors.
Using CO will identify to users that your site is commercially focused and has the potential to become as well known as and accepted .COM.
The Key Benefits of .CO:
.CO is a truly global, recognizable and credible domain
.CO gives businesses and brands a chance to build a worldwide footprint
.CO is relevant to individuals, organizations and businesses
.CO is meaningful, memorable and intuitive for use around the world
.CO can appeal to today's socially networked individuals and entrepreneurs.

Your hosting company will be able to access the new domain extension for you when you choose your domain. This new option gives you an opportunity to pick the right descriptive keyword domain tthat matches your needs....of course until all of those are gone as well.

Lee K

-Is YOUR computer COUGHING?  Get relief with a 15 day trial of our Server Health Check.


image courtesy of network solutions