Colour printing is a constantly growing part of the printer market. The capabilities and the quality of colour laser printers continue to grow. Ricoh has recently introduced a letter/legal colour laser that sets a new mark in one particular area. The estimated operating costs for this new unit are as low as 3.8 cents (US) in colour and less than 1 cent in black and white.
Coupled with this new mark in low operating costs are a fast 37 ppm, standard duplex and 1200 x 1200 dpi printing. These are impressive stats and can make the access to quality colour printing a potential for any office.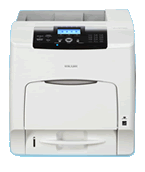 We recently reviewed a super video produced by Printer Showcase an online US laser printer reseller. Their comparison of the Ricoh SPC430DN and three competitive printers is quite enlightening. They do not sell into Canada due to warranty issues but cover the US market. We want to credit them with a well produced video which highlights the strengths of two of the colour lasers we often recommend (Aficio SPC430DN and Kyocera FS-C5350DN)...and point out what might be lost with two popular alternative choices. Check out the video.
The combinations of performance, quality and cost of operation are key items which should be considered when looking at your options for picking a colour printer. Finally, you want to be sure that support is readily available as every colour printer eventually will demand some support. Knowing where you can get knowledgable response is critical in any printer decision but even more so with colour.
The new Aficio SPC430 is a great option for an office needing excellent print quality, speed and low operating costs. With the level of black and white performance it offers it is possible to use this as your only printer.
Lee K
Colour Printer An Emotional Decision