I just finished helping a client analyze options for his colour printer. This client is not new to colour printers as the one he just chose is his fourth colour laser in the past seven years. What is significant about the recent decision to buy is it was totally driven by the high cost of consumable components for his current (being replaced) colour laser.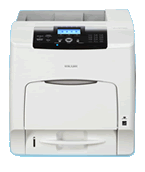 Why is he replacing and not buying the supplies he needs? The simple answer is the current machine needs a full set of toners retail value $1,369 (Canadian dollars, we're in the Hamilton, Burlington area of Canada) and a transfer kit which retails for $347. That gives him a total supplies cost of $1,716.
Now it is a coincidence that all of these pieces have come together at the same time but it does illustrate how critical understanding the supplies cost of a colour printer can be. He has only used this printer for a little over a year and estimates he will have done about 20 to 25,000 pages over that time. He originally purchased the unit because he had two previous printers from the same manufacturer and found them good reliable devices. Unfortunately just over a year from purchase this time his experience is not as good.
When we did a complete cost analysis for the printer the cost per page at rated yields was $0.108 or 10.8 cents per page.
When he and I reviewed some options for a replacement we identified a similar printer from another manufacturer that has a rated cost of $0.0534 or just over 5.3 cents per page at rated yields.
What also made the issue interesting is that he could buy another copy of the original printer at a cost 46% less than buying the supplies he needs. His concern was that in another year he would be right back in the same situation....high supplies cost for a printer that needed new consumables.
His decision in the end was to buy the new printer, change manufacturers and get better consumable yields; in this case half the per page cost. Even with a slightly higher capital cost this new printer will save the client over $700 per year at his current volumes and also not have him experience as high a sticker shock when consumables are needed.
The moral of this story is simple. The capital cost of a colour laser printer is only a very small part of the actual calculation when you consider the total cost of ownership (TCO). Make sure you do the full calculation before you buy and if your supplier cannot give you the costs of consumables at the time of purchase, find one who will. Consumables are a critical part of the equation.
What has your experience been with colour printers? Are there models you really find operate at better costs? How does your experience compare?
Lee K