Why not to give up on Direct Mail?
Recent privacy concerns over telemarketing and email as well as aggressive spam filters are reducing your chances of interaction with in your market, also reducing your capability to provide the appropriate follow-up with your clients to ensure their future business.
Even inbound marketing specialists at Hubspot have done market research that states "Direct mail" is still a part of the marketing agenda. Many small and large companies are returning marketing dollars back into the proven and efficient "direct mail" as a medium of choice.
Once is Never Enough
A basic fact of direct marketing is that response rate levels depend on both reach and frequency. Managing a successful ongoing marketing program designed to increase customer conversion over time requires follow-through.
After watching a webinar the other day I came away with the firm understanding that variety is important, a touch plan is your company's investment. Done properly The rewards can be big!!
Stay in Touch - Stay in Business
In direct mail advertising-- the timing of your message is everything. Multiple "touches" to a defined list greatly increases the odds that your message will reach your prospect, especially when you're targeting high-level decision makers. Multiple impressions will also dramatically increase recall rates and therefore, mind share for your company's product or service.
Making your "Direct Mail" stand out as Professional
Whether you're a small medium or large business, a mail meter gives a distinctive professional polish to your "Direct Mail", allowing you to postmark advertise with your company's name, slogan or maybe a call to action. There are also other benefits you should be aware of. Here's 9 reasons for a small business to use a postage meter.
It may be a good time to consider a postage meter, but consider your choices carefully.
A decision to use a mail meter can be a very cost effective starting point. For example here is a small business focused posta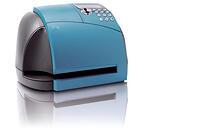 ge meter that can start as low as $9.95 per month. (Canadian pricing)
This is a meter that would meet the needs of someone doing up to 25 pieces per day or less and will also provide the means to deal with small parcels up to 2 kg.
So, don't hesitate to include targeted direct mail in your marketing mix. It has the ability to support all of your other efforts.
How do you handle your postage? Are you getting results with direct mail? Comment below.
Joanna W.