There is lots of confusion about the relative cost of operating various office printers and related multifunction printers (MFP). This confusion extends to home use as well. Calculating page coverage and toner yields is something that most end users never come to understand and that is often confused by vendors when they describe how their device works.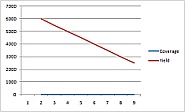 Printer Yield Guide
A very well written printer yield guide recently came to my attention and I pass it on to you in the hope it helps you understand how the issue has been addressed by the development of ISO standards for printer cartridges. The intent of the standard is to help consumers to be better informed about what they should expect out of a given device or cartridge product.
As the guide outlines there is no guarantee that in your use of the device you will get exactly the yield that is shown for a given toner cartridge. This is due to the variability of the design of printed documents and the variability of how any printer gets used in the field. Rated yields do however give a reasonable estimate of what you could expect and can help you compare the relative cost of one device with another.
The biggest impact on yield is average page coverage. Ratings for most products are done at 5% coverage using a standard ISO page so that the variability of page type is removed from the equation. Most users don't take into account however how much a small increase in coverage can impact yield. If your average page coverage was 8% then you have increased your coverage by 60%. Thus if a cartridge was rated at 5000 pages at 5% you would only be able to expect 3000 pages to be yielded at 8%.
In a recent article I analysed a case from one of our clients where coverage had a massive impact on their operating costs.
Understanding the costs of operation of your office printers before you buy is an important component of a purchase decision.
Have you been surprised by how costly your printers can be to run? Have you had any good experiences with cost effective office printer operation?
Lee K