Even with the growth of e-mail and other electronic messaging a postage meter is still a component of many business offices. if you don't have one here are ten reasons you might like to consider.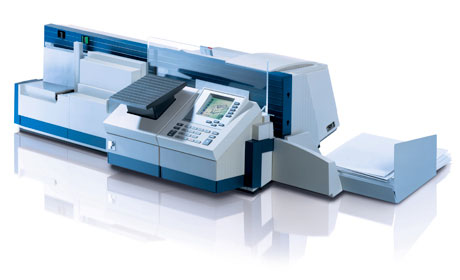 Prevent Over Posting - Using the built in scale, it calculates and insures you apply the exact required postage to your mail, eliminating any guess work. It also insures that you don't put more postage on a larger letter or parcel than is needed since the meter can calculate the exact amount based on weight.

Avoid losing, theft or misplacing of stamps - The added security of using a postage meter allows you to lock your postal dollars away (in your machine). You don't have to worry about stamps, where they are or where they go..

Help Employee Morale - A postage meter elimintes the tedious wetting or licking of stamps or the peeling and pasting of pre glued stamps. They also eliminate the wetting and manual sealing of envelopes as well.

Ability to Use Postmark Advertising - Use the ad space alongside the indicia (the stamp area) to advertise your message in a bold clear way. You could also use this for a return address to save the cost of pre printed envelopes.

Prestige - Want your small business or SOHO operation to stand out andlook more substantial? Your professionally imprinted mail will enhance your business image.

Quicker Mail Delivery - Metered mail being postmarked and dated correctly and right at your own office, gets preferential handling through the post office system.

Convenience - Always have the latest up to date rates and never run out of postage again just when an important invoice run or critical mailing is being sent out.

Track Usage - Using accounts within your postage meter permits control and prudent use of postage. Track by departments, users or even share the cost with a tenant.

Easy Parcel Handling - Added convenience of having shipping rates and the ability to properly add postage to your outgoing parcels. (Note: depends upon vendor rate plans and the specific model of your postage meter.)

Postal Consultation - Not sure about what is best fit for you? A postal dealer like Leppert can assist you to acquire the right configuration designed to match your needs. High volume? We can help with other postal realated equipment like folder/inserters or envelope openers to improve your mailroom productivity as well.

Summary:

If you are doing even a few envelopes per day a postage meter can offer these and even more benefits to your business. Small unit rental plans are quite affordable and the leasing or rental of larger units make them very accessible. Sizing your unit to your exact needs is part of the consultation we as your dealer will provide.
Do you track how much you use in postage? Could your office use a postage meter? What do you like about your current meter and what don't you like? Is using proper postage and controlling costs an issue in your business?
Joanna W
Photo credit: Centormail vertical postage meter, Francotyp-Postalia Canada
Revised Sept 2016 / IL