This week I received a demo Lenovo Thinkpad Tablet to trial for the next month. I have been waiting to try it out as it has a feature I really wanted to test. One of the software apps it offers has a hand written note capability, something that for me is a requirement in a tablet. I should offer full disclosure right off the top on this review....we are a Lenovo dealer and have sold their laptops, workstations and servers for several years. My impressions however are my own as I use the device and test it out for my daily use.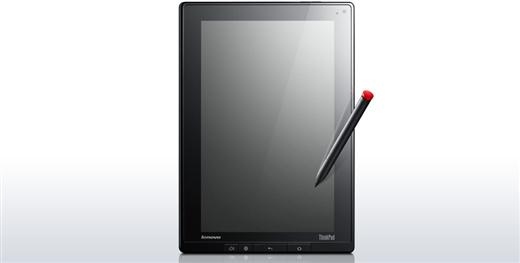 Over the next couple of weeks I will use the tablet as one of my primary tools for communication and for work and personal activity. I'm going to share my experience with readers as I learn my way into the world of tablets. I hope this real world experience helps you decide whether these tools are something that could help you.
First Impressions
The Lenovo Thinkpad Tablet is a 10.1 inch Android based tablet with a "Gorilla Glass" touch screen interface. It also offers a good selection of connection options, mini HDMI, USB, SD Card, 3 way media slot, front and rear cameras, volume control, combination microphone and earphone plug and a USB charging port. One unique feature is the tethered pressure sensitive stylus that comes with the unit and which is the feature that makes the handwriting software possible.
On taking the tablet out of the box, my first thought was it was heavier than I thought. It took some time getting oriented to it as I have not used an Android device before, (my phone is a Blackberry and previously I had an HTC that was windows mobile OS.) Once I figured out how to get up and running through the two touch/two step security screen at login I was off to the races. The standard desktop features four prominent buttons: Watch - a video area, Email - just what it says, Listen - a music area, and Read which linked to a Zinio login screen. I haven't explored whether or how I can change the defaults as yet...more on that later on.
Other icons on the desktop linked to various apps on the device and a centrally located icon of the world takes you to the Google home page for your browser. If you are a regular Google user this will not create any problems for you.
Things I Like So Far
The form factor and sense of quality of the device are excellent. Given the size it is not a pocket device. You will need to carry it by hand or in some sort of case.
I'm getting more comfortable with the Android system and can see why many people use Android phones. It seems to work.
Figuring out how and when to navigate is taking a bit more effort, but I have only a couple of hours into the operation at this point and intermittent use so that is to be expected.
Getting the Thinkpad Tablet connected on my home wireless network and then on my work wireless network was a snap. It finds the network, you enter your security key and you are running...super easy.
Fairly fast boot. Unlike the laptop I usually use, the 15 second or so boot time is great...of course I am sure that over time I will come to think even that is too slow.
Things I Might Not Like
Aggressive energy saving. Put the device down on the desk for a couple of minutes and the screen goes black and you end up having to push the two step login buttons again. It does however bring you back to where you were when the energy save kicked in. I'll see about changing settings on this once I see how the batteries last.
The shiny Gorrilla Glass screen is very crisp (a like) but it really shows finger prints easily...didn't know my hands were so oily. It does not detract from the images or use, just distracts a little.
So that's my day one half impression of this new tool. I'll share my thoughts and those of others as I share the unit around the office, over the next few weeks as I put the unit through its paces.
What's your tablet experience? Which works for you? Is a tablet the computer for you?
Lee K