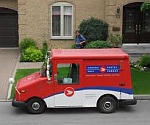 When your business makes a postage meter rental decision there are five key features which should be considered. Of course one of these will be who to rent from, but there are other important things to consider.
What is the volume of postage that you run each month? This is probably the single most important determinant of what size of postage machine you need. If you are doing $50 of postage a month then a small, single impression meter is fine but if your volume is in the $1000 per month range this would be a horror to operate.

Do you need an integrated scale and how big does it need to be? The size of scales fluctuates up with the size of the postage meter you rent. Most small units have a 3 kg or smaller scale while larger ones will offer 5 kg. You can usually add a larger scale if you are doing a lot of parcels. Having the scale integrated to the meter is important since this permits the meter to automatically set the postage amount based upon the weight of the package or letter along with the postage rates set in the unit. This capability helps make sure you only use the amount of postage required not extra by guessing at the weight.

Do you need automatic feeding of the letters? Automatic feeding (see an automatic feeder at work here) permits the user to place a stack of letters on the device and they are fed into the unit one at a time, imprinted and sealed all in one pass. This is a necessary feature if you are going to process larger batches of mail but may be not needed if your volumes are only 10 or 15 pieces per day.

Do you need a pressure sealer? Smaller postal meters which you rent will not provide a pressure sealer. You have to run the letter over a moistener and then once the imprint is on the envelope you make sure the flaps have sealed manually. Again, this is not a problem for a low volume of mail but becomes very tedious with a large run of envelopes.

Which vendor will you contract your postage meter rental from? In Canada there are three manufacturers of postage meters that are approved by Canada Post. You can acquire your meter from any one of them or from a dealer for those who offer dealer delivered sales. Each has their own approach to the market and to pricing. Taking the time to understand what your vendor is offering and how they do business is an important feature of your rental agreement.
Understanding what can often be a very confusing purchase is a challenge for many businesses who acquire postage meters. Confusion on the components of the pricing and the features of the equipment, including whether the units are new or refurbished (green units in the parlance of one vendor) add to the difficulty that purchasers face. Taking the time to fully read through the terms of the agreement and to understand what you are getting for the price quoted is important. Since most contracts are for long durations this is a purchase that is generally unfamiliar to even the most knowledgeable office product purchaser. Ask lots of questions and if you don't understand the answers ask again....and get it in writing.
How has your experience been with your postage meter rental? What would you do differently? Are you confident you know what you purchased and are paying for? Share your experience so others can learn as well.
Lee K