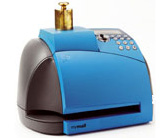 The Mymail postage meter is the smallest model in the Francotyp-Postalia lineup of equipment. So why would you want the smallest model?
If your postage needs are small volume, yet you want a professional looking postage mark then a unit like the Mymail can be suitable for your office. Using simple inkjet technology and a manual process a Mymail can imprint a quality indicia and can even do labels for use on parcels as well.
With a small integrated scale it is possible to match the weight of your envelope to the correct postage saving the tendency to put 'extra' postage on a heavier envelope just in case.
Using this type of machine you gain the security of postage that a roll of stamps can't provide. By 'locking' your postage in the device only authorized users have access to the postage and can run stamps. You download your postage from the Francotyp-Postalia Teleset system just like the big offices do. buying the quantity you need for the volume of mailing you will do.
So how does a Mymail work? Here's a short video that can explain it all to you.
For convenience, security and professionalism in your SOHO office a Mymail can be the solution for you.
Still using stamps? Would a postage meter be better for you? Have you tried a postage meter before? Share your experience below.
Lee K