Understanding your printer operating costs can seem like an impossible task if you don't fully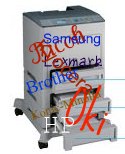 understand how printer consumables and pricing works. Here are the 5 simple steps that you need to consider to make an informed decision.
Capital cost, the actual purchase price of the printer is the least important part of the equation calculating cost.

Cheaper price for the device does not equate to the lowest cost for a printer...in fact almost the opposite is true.

You must know what the cost of consumables are for the printers you are considering. Check toner costs, imaging unit costs, fuser costs and transfer costs to be sure you consider all of the cost of the device's operation. Note that not all printers will identify each of these and it might take a bit of investigation to get them. This is where your printer dealer can help...they will know what each printer they recommend needs. Find out the rated yield (number of pages) for each of these consumables as well. You need them to calculate the total cost of operation.

For toner costs use high yield toner if you are going to buy high yield toner. if you are going to use low yield toner because you are not doing higher volumes then use it in your calculation. The differences are significant between the two.

Understand how you intend to use your printer. There is a big difference between a printer for one or two people and one being used for a workgroup with many users. Buying a printer that is right sized for the user you intend makes a lot of sense. Oddly, you can make a case to over buy rather than underbuy, since the lower operating costs on larger printers will usually offset a higher purchase price.
Once you have compiled the key information for each of the printers you are considering, you can use the data to calculated an estimated total cost of ownership. Once you figure out the estimated per page price to buy and operate your printer you can estimate your overall cost (total cost of ownership or TCO) over the projected life of the printer. Don't be shocked, it will be much higher than you ever figured. Do the calculation for a range of volumes around your best estimate of what your annual usage will be and you will have a sensitivity scale to help guide your purchase.
The formula to calculate TCO is covered here.
Buying a printer for your office seems like a low cost, not too important task. Unfortunately, when you total the overall cost of use over its lifespan you will quickly find that even a small printer becomes a significant investment. Deciding on the one that can meet your need while providing a sensible TCO can give you significant return on your time in doing the analysis. Your printer dealer can help with this analysis if they are more than just a box pusher....committed dealers understand the impacts and will look at the whole picture with you.
Do you know what your printers are costing you? Have you figured out the TCO for them? Is printing impacting your bottom line?
Lee K