Many Canadian businesses don't realize that they have a choice of postage meter companies when they are looking to rent a postage machine.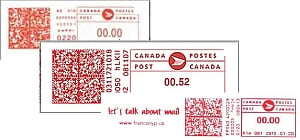 Since there is one company, Pitney Bowes that is most familiar to people they assume that they offer the only choice. I think some of this dates back to the days of analog postage meters where you had to manually transport the meter to the post office for updating with new postage.
There are actually three companies in the Canadian postage meter business that are authorized to produce approved meters. The industry is regulated by Canada Post since a postage meter is actually a tool to 'print money' in the form of approved postage indicia (the stamp).
The other two companies who are approved are Francotyp-Postalia (FP)-Postalia (FP) Canada and Neopost Canada. Each of the companies offer a range of postage machines designed to match the mailing volumes and complexities of the users. For higher volumes and more complex needs; various sizes, weights and parcel types there are very robust and substantial products. In the mid and lower range you can acquire a meter which is suited to those needs.
Postage meter rentals can be confusing to purchasers since each of the postage meter companies have different names for the rate components. For a guide to the parts of a postage meter contract check out our guide to postage meter rates publication here. If you a small business renting a postage meter to send out your mail may give you a bigger business look to your clients. If your volume of sent mail is small there are some low cost cost alternatives for renting a postage meter.
Timely Changes
Our postage meter specialist has recently been working with some clients to do upgrades on their existing equipment which has been coming to the end of their current agreement.
One of the features she has been able incorporate in these upgrades is to bundle in the rate change fees which are charged to clients for changes to the Canada Post rates. This has been viewed very well by new clients as in recent years we know there have been multiple rate changes coming - in some case more than 2 times per year. Companies that were facing a rate change fee which could be spending well over $100 (painful if rates change twice in one year). When we are able to bundle services together we can save you a large portion of this fee and you will have lower costs going forward for the term of your new contracts.
.
Full Disclosure
We are a dealer for Francotyp-Postalia Canada and look at the market through our experience gained in serving clients in the postage meter field. Put our expertise to work for you!
Which postage meter company do you use? Are you happy? Are there things you would like to see done differently?
Originally published Dec 2011 - Revised August 2016