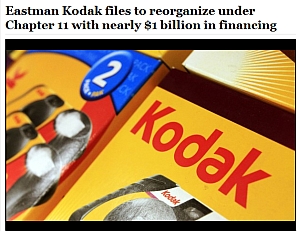 News is official as I write this that Eastman Kodak has filed for chapter 11 protection while it attempts to deal with its financial challenges. This news will have an affect on Kodak's business selling production scanners since this important area will be greatly overshadowed by the problems in the consumer side of the business.
I have been selling Kodak scanners for over 15 years and our company sold them for several years before I joined. Their scanner product has always been a premium brand and the first unit I sold cost the client over $65,000. They ran that scanner for over 10 years putting millions of pages of paper through. One of those early clients of ours still operates a Kodak scanner they acquired over 15 years ago. Such longevity is almost unheard of in the technology field.
The latest scanner products from Kodak are industry leaders and they share the market lead in North America with Fujitsu with all other scanning brands falling far behind. Kodak capture software is one of the most powerful tools in the field and their support for the document imaging field has been superb.
The people at Kodak in the document imaging field are exceptionally knowledgeable and understand the market and its needs very well. Their field support force is excellent. Purchasing a Kodak production scanner is never a mistake and having them support the installation is also a great decision.
So what has gone wrong? I'm not going to try to answer that myself but this article from Bloomberg Week can help those that are interested understand more.
My hope is that Kodak document imaging group survives this turmoil with the resources to continue to support their market. Losing the expertise and depth of knowledge that they bring to this market would be a shame.
If Kodak doesn't make it I am sure somone in the scanning and capture business will pick up the document imaging group, the danger is that the innovation and knowledge that goes with them will get buried.
For our colleagues at Kodak we wish them well as this difficult transition occurs.
What's your take on Kodak's chances? Was this inevitable? Is it just too hard for traditional companies to adapt to significant market change?
Lee K
Photo Credit:  From Washington Post Online