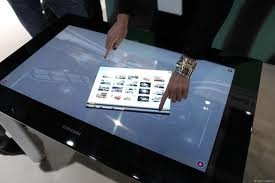 Samsung Canada has recently launched a new 40 inch tabletop style touch LCD screen which can revolutionize the way people interact with information. Using Microsoft Surface software as its operating system the SUR40 from Samsung is a remarkable device.
Imagine sitting at your local restaurant while you use the table top to surf the web, play games or to read the interactive menu on the table in front of you. This is only one of the ways this new technology could be deployed.
On the MS Surface website there is a great video showing how the Manchester UK tourism information centre (video) has used a customized Samsung SU40 to permit users to interactively explore a map of the city using unique acrylic cylinders to choose various interests.
The applications of this technology are unlimited. I can see it deployed in kiosks for real estate exposure so people in a mall are able to explore available properties. Or it could be an interactive display in a show home or condo display centre.
The table top (it can be wall mounted as well but the table top unit is really different), could be used to assist people to understand their investment options when meeting with a financial planner or for reviewing design ideas in a furniture or home improvement store.
While the units are not inexpensive, they can replace a massive amount of paper based promotion material and provide a much more integrated and hands on experience. Viewers can interact with the information being provided.
It will be interesting to see how people decide to utilize this new rendering of touch display technology.
The marriage of the fine Samsung display with the capabilities of the Microsoft Surface operating system introduces another way to explore our world interactively using technology.
Have you seen the reports? How would you like to see this technology used? How about an interactive kitchen table in your high end kitchen? (That's my favourite idea but my wife said no to the cost!)...share your idea below.
Lee K