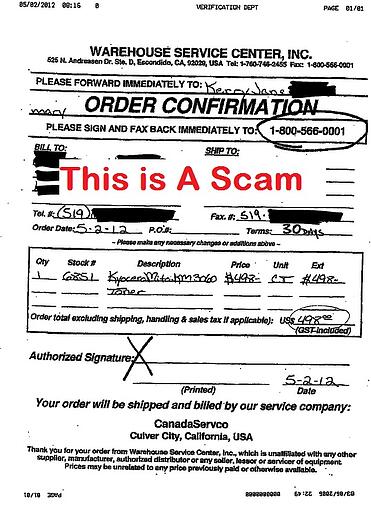 Taking advantage of people in getting them to order unneeded toner for their mfp or printers is the practice of Warehouse Service Centre, Inc. from Escondido California. Of course in all of what they ship and fax, they never put phone numbers or e-mail addresses where someone can contact them.
Their phone numbers are all fax numbers. Here's the scam that was tried on one of our Managed Print Client's branch office: Here's the actual wording of the e-mail our support desk received from the client.
Below is the commentary from Kerryjane, our receptionist about the call:
Hi Christie;
Just a heads up.
Yesterday we had our photocopier serviced by 'Leppert' . Shortly after the fellow left(within the hour), I received a call from a Mary Davidson asking me how the 'servicing ' of our photocopier went and did we have any questions or concerns about the function of the unit. Also she requested the 'code' number on the front plate by the brand name of the machine. She then told me that she had a total of 8 Toners on Order for us at their new price of $568.00. But because 7 were on back order, she would send the 1 at our old price of $498.00. All I would need to do is confirm this for her by speaking to someone else from her office that would be calling me shortly(which they did) and then sign and return the fax she would send me(which she did). She then called me approximately 1 ½ hours later to see if I had signed and faxed the order form back to her yet. In the meantime, this form was submitted to Jim for approval. Jim asked me about it and I told him the conversation. He said that it was strange, since we get all these supplies from head office. I thought it was strange that this company was able to call me and represent themselves as 'Leppert', and spoke in such a way as to lead me to believe that an order had been already submitted and that it was an ongoing occurrence. Not too sure what was going on here. Just didn't feel right.
Thanks
Kerryjane
Boy was she right!
It sure didn't feel right. This client gets all of their toner from us as a Managed Print client. They order through their head office and we supply and since they are a distributor with trucks running to their offices they distribute the toner on their own trucks.
When you try to contact Warehouse Service Center, Inc. there is no phone number to use. They have other information about the delivery process from another company CanadaServco Culver City, California, USA...but no contact info. When we did a web search for Warehouse Service Center the first links that come up are all from Ripoff Report describing how they have done this to many others and orders have been placed only to find out the costs are exhorbitant and the toner is even wrong...of course no way to return it.
There are many more of these reports and we know that these operators just predatory companies who count on people making a mistake.
Warning: Post for all employees...if they are contacted by phone from people soliciting toner purchases they should not order. Give all such requests to an authorized person who knows the vendor(s) they use for these supplies...there are no bargains to be obtained from this kind of telephone solicitation.
These kinds of business practices hurt every legitimate business no matter what country you operate in...if anyone knows who the people are behind Warehouse Service Center, Inc. report them to the police and the Better Business Bureau..they are a plague on every business in the market.
Congratulations to Kerryjane for being on her toes and recognizing when something was wrong.
Have you been hit by the toner pirates? Are your front line employees warned?
Share your thoughts below....
Lee K