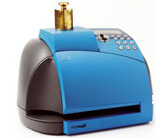 myMail is the smallest postage meter in the Francotyp-Postalia lineup of meters. For Soho businesses and other organizations with limited mail volumes who seek a professional and secure mailing option it can work ideally.
Based upon a simple inkjet printing process the myMail produces a crisp and legible indicia which meets all of the Canada Post requirements.
Is myMail unique in Canada? Not really but it is as good or better than the competition. There are models like it from all of the postage meter vendors. myMail will match up with the competition and meet the needs of most users who are doing a few (maybe up to 20) stamps a day. Beyond that volume the speed and the cost of impressions will encourage you to consider an upgrade. The myMail is the number one selling postage meter worldwide so it shows that it can meet the needs of many users.
If you want professional looking postage, security of postage (stamps do go missing easily) and a postage meter for low volumes then the myMail can meet your needs. Nothing elaborate, nothing overly exciting, just functional and reliable at competitive prices.
Are you using stamps? Do you need professional postage, a weigh scale and security?
Lee K