I have been told many times, the world of postage machines is not any easy place to shop. There are so many variables that is hard to compare apples to apples.
When shopping, a couple of considerations are the type of mail you will be sending and also whether you wish to use the postage meter as just a sealer without adding postage.
The type of mail includes the size and weight of any items. If you are going to send items heavier than 2kg then you must consider this in your choice of meter. If you wish to seal without postage, ensure the postage machine you choose has this capability.
The biggest issue is your mail volume. Different machines are designed to handle different volumes efficiently.
This is where it might get tricky. If your volume is on the high end of one level of device and the low end of another it is time to do a total cost of operation (TCO) comparison. By dong this you may find the the higher capacity unit actually renders a lower TCO due to consumable savings. You can use the same tool to compare manufacturer's suggested machines as well.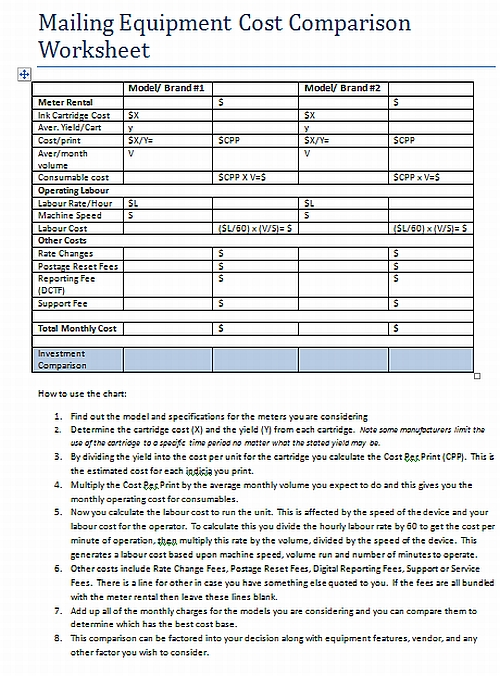 You can use this chart as a checklist for your comparisons. Making this type of tally will make you more educated which will in return avoid post contract remorse after you have done a deal and are into a contract.
Hope this tool helps you pick the right postage machine for you.
JoAnna W
JoAnna W is a client relationship manager at Leppert Business Systems Inc. specializing in postal equipment.