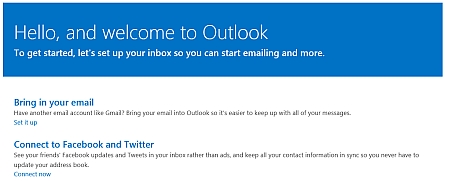 I have never had a Hotmail e-mail address although I do actually work with four different e-mails. I have had a Gmail address almost since it was first made available on a personalized invitation basis.
Last week I received my invitation to create my Outlook.com e-mail account as I manage our Microsoft Partner Relationship.
So what is Outlook.com? This is the new cloud based portable e-mail system that is an enhanced Hotmail with many more features and capabilities which is being introduced by Microsoft.
Given the many ways that you can exchange information with people using the many social media platforms (Facebook messages, twitter direct messenging, Gmail,etc.) it is sensible to ask why would Microsoft introduce another platform. I can't speak for them but my guess is they simply have to have a matching capability to offset the power of Google's use of Gmail as part of their overall cloud based application delivery. If Microsoft is left with only traditional e-mail platforms (I just can't think of Hotmail as a serious solution today, even if it was the first of its type), then as they push to the cloud more aggressively they can be left with an important hole in their offer.
I have signed up for my Outlook.com e-mail account and it was automatically linked to my exchange account from my business e-mail. I admit that with a few days under my belt I have not delved into the core of Outlook.com to see if it promises anything new or better than my current accounts. I will be doing this over the next few weeks and we'll see if it offers anything better.
Others have done this however and here is an interesting analysis from TechRepublic where they make a case for Outlook.com.
If you want to learn more about Outlook.com from Microsoft or if you would like to sign up, you can do so from here.
The battle for the minds of consumers betweens the big tech players, Google, Microsoft, Facebook, Twitter, LinkedIn, and the many others seems to be played on many fronts. This new entry from Microsoft is just one of many choices we are being asked to make.
It is always interesting to see what gets traction when new tools come along.
Are you considering Outlook.com as an e-mail platform? Are you unhappy with your current e-mail tools? Is this too little, too late for Microsoft to make more inroads in this area?
Share your thoughts....
Lee K