Lenovo has entered the mini desktop market with a really slick new offering including several models of Tiny Thinkcentre desktops. If space is a challenge then these powerful models can really help.
We just ordered one for a client, partially because the price point for the M72e was almost $80 less than a full sized tower with similar specs. The Thinkcentre M72e uses the Intel i3-2120 processor and comes with 5 USB ports, wireless, gigabit enthernet and 500gb of hard disc. Other models come with up to 750GB.
A mounting bracket for installation on the rear of a flat screen monitor is standard. The only thing missing is the optical drive (DVD/CD) since the case is so small. Other models do offer a slim DVD drive if you need it. There is even a knock out so you can install an optional Display port as well to support multiple monitors.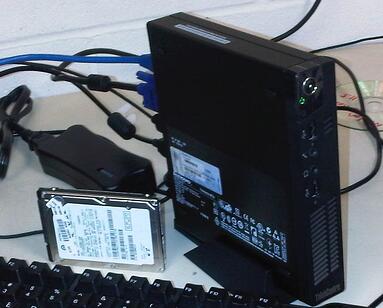 As you can see from the picture of the ThinkcentreTiny it really does fit its name. I put a laptop 2.5 inch hard drive in the picture so you can easily get a sense of how small this unit is. It only weighs 2.9 lbs so you can easily pick it up and move it around. What a great solution for a display tool for people headed to trade shows using large format screens...no more carrying a cumbersome laptop, (LOL).
A Kensington Lock/padlock loop is on the device, since it is so portable that it could be easily stolen if not mounted to a monitor. A three year warranty is standard.
Lenovo is providing versions of these Tiny Desktops which can be stripped down for thin client applications not needing all of the additional ports, connections and features. Customizing the level of workstation you need in a thin client application can reduce the workstation cost and complexity.
Other brands have offered their version of small desktop hardware and it is interesting to see Lenovo enter this competition. Their push to provide maximum choice across the whole range of hardware continues with the introduction of the Thinkcentre M7e and the M92 Tiny Desktops.
Are you space challenged? Would you chose a Tiny and save some dollars instead of a full tower?
Share your thoughts.....
Lee K