In a detailed market assessment report published over a year ago Morgan Stanley outlined how disruptive tablet adoption is proving to be. The impact on IT network systems will be significant as tablet adoption continues to move many computing activities to mobile platforms.
In their review Morgan Stanley predicts that as the market for tablets matures more of them will be used for content creation vs content consumption. Given the timing of this report and the changes in the tablet market since it was published their prediction appears to be true. Certainly the ability to compose material, program and write documents has been improved with newer generation tablets when compared with the early entries in the market.
My personal tablet, an Asus Transformer has a clip on full function keyboard that essentially converts the tablet to a netbook with similar functionality. I find that note taking and short document production is easy to do with this accessory.
One of their other observations is that tablets tend to be a complimentary technology not necessarily a replacement. Their use is incremental to other technology, like PCs, laptops and smartphones. This means that they add to the mix, not necessarily replace it.
On the other hand, you can expect that for some users the tablet could become their primary multiple use tool. I can see how it could replace a laptop for anyone but a power user if the laptop is primarily used for e-mail and general communication rather than power computing.
The portability of the tablet and the design of this type of device particularly equip them for content consumption: video, pictures, games, music, real time connection for web browsing, etc. It is in these areas that the replacement for PC use is being seen the most.
Since tablets are seen as part of a mobile shift, their growth in use will further move consumer and business computing into a mobile environment. Since the operating systems for tablets tend to mirror smartphone operating systems including versions of popular smartphone apps, they are accelerating the amount of computing which is seen as mobile in nature.
All of this is done prior to the formal launch of the new Windows 8 platform and the complementary Windows Mobile which will have a similar style and feel. The impact of being able to use similar OS features on your mobile devices; smartphones and tablets, as on your desktop PC will make the tendency to work in multiple modes more attractive as well. This fall as these releases gain traction it will be interesting to see what the adoption rate will be.
One further piece of data from the Morgan Stanley report that I found interesting was the difference in the demand for tablets between geographic regions.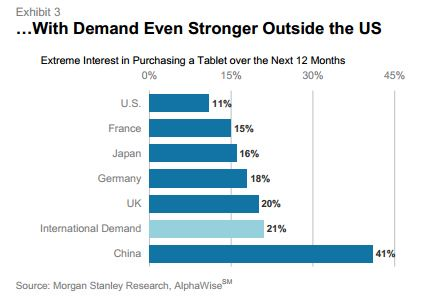 As the chart shows the demand for tablets is higher in most major jurisdictions than in the US with the demand in China being double the next highest area. This shows that tablet sales and adoption is a worldwide phenomena and that in fact the US may be lagging behind other areas.
The implications of the Morgan Stanley report are much greater than their intent in preparing it. The report is written as an investment advisory tool to help their clients to decide where to invest in the technology market. The data provided, while targeted to investors, offers the potential for insight to IT network service providers, IT managers, CIO's and even the general public.
When a decision is made to invest in a technology for your business you do so based upon the need for the work it can help employees perform. As tablets gain further traction more and more of them will become part of business networks and as useful tools in daily commerce.
Understanding their implications for communication strategies, marketing and promotions and IT support will be important to any business.
Are tablets invading your workplace? What kinds and types are favoured? Do they create unique support issues?
Join the dialogue with your comments below...
Lee K
Photo Credit:  Morgan Stanley Report