I was recently a guest at the Canadian launch for the Intec line of specialty production digital colour printers. The Intec line is targeted to meet very specific needs for colour digital printing that would be outside of the norm for colour MFP or colour laser printers.
The types of products that can be produced on the Intec printer are more commonly found in offset focused print shops running large runs and high volume outputs.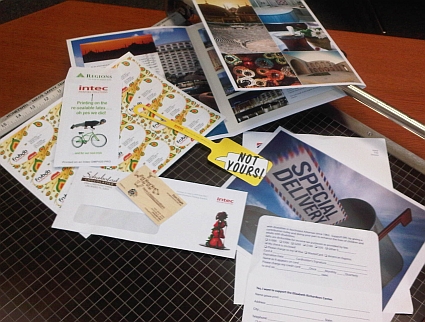 How about having the ability to print custom golf ball sleeves with each golfer's name on them, and do it in very low quantities? How about printing a business card on a wood stock? We actually saw this done at the launch.
How about doing personalized wine bottle sleeves for your next promotion? Or business cards on 600 gsm stock...they are like a board. How about top quality 3 fold letter sized brochures, requiring the ability to print on 24 inch stock and do it in a production mode with a high capacity feeder and output tray?
What about being able to print custom envelopes and even be able to print on the sticky flap using an envelope feeder designed for continuous feed of hundreds at a time.
At the launch I saw all of this being produced and with a device that does not break the bank, either for production costs and for capital acquisition. Now it has to be understood that to achieve the impressive capabilities the device does not offer the most competitive production rates for straight letter sized colour flyer production. That is not its purpose.
So who does this product target as a potential user?
I can see several potential homes for the device.
As a short run, easily customizable adjunct device in a traditional offset print shop. The ease of setup, the custom imposition software available with the device and the abiltiy to do short runs cost effectively make the Intec printer a nature companion in a print shop trying to meet quick turn around needs and short run client requests.

As a colour print device in a corporate print or marketing department where a large variety of specialty projects are required or where high end quality brochures or card stock based output is needed. I could see a high end real estate or developer using one of these products to customize card stock based output on a one on one basis.

A promotional supply house might find adding this capability to their inhouse production would permit them to create more specialized custom promotional items for their clients. The packaging abilities of the device are complemented by a line of special die cut stock that Intec has developed so you can create table cars, tent cards, boxes, tags and other pieces by using simple template driven setups in the software provided.
There are many specialized stocks available including cloth based stock and cling film tools for creation of special signage and including window signs on cling film.
Complete system
Intec has created a complete system with this product line. Instead of focusing their attention on only the print hardware and accessories, they have looked at the types of output that users may like to create. By providing access to an approved line of media as well as software templates and rip management software they provide a potential for almost a complete turn key solution for purchasers.
Not every business or print shop will need this level of equipment. It fits into a very select group of businesses but offers substantial value and capability for those it suits.
Have you experienced a need for specialized media output? Do you find acquiring this kind of material costly or cumbersome?
Share your thoughts below....
Lee K

Photo Credit: Intec print samples