Man, am I feeling ticked off…..
Let me tell you why I feel the need to rant. I just can't stomach companies who have no regard or respect for their Clients. They are in fact, business bullies of the worst kind.
Some may ask "why are you so spirited about this?" The answer is, for many years I worked for a company that was service and client "Ha ha" orientated. Unfortunately once they had a contractual obligation with a customer, all too often, the definition of the words "Service and Client" went completely out the window. I finally left when I could no longer manage to make a difference.
I took a job with Leppert Business Systems as a Client Relationship Manager for the main reason of ethics. Leppert knows the meaning of client and service. They practice it as they work daily, not occasionally, striving to be the dealer that works as a true advocate for their clients.
This leads me to my real reason to rant; tell me what you think…
Yesterday, one of Leppert's clients called me. I had supplied a new FP (Francotyp-Postalia) postage machine for their office. Our client will save money on consumables, save money on the lease and allow them to work directly with Leppert. As their dealer for other products, our service record with them has already been tried and proven, giving them the feeling that this kind of a relationship is a positive one.
It was time to return their Pitney Bowes machine since they decided to upgrade early with us.
Our client had 3 quarters left and Leppert bought out the contract as part of the deal and supplied them with the money to complete their financial obligation to their current vendor. After several attempts to communicate with someone that could help at Pitney Bowes, they got a reply that it would cost a $50 administration fee to generate an invoice for payment in advance, of the remainder of the obligation.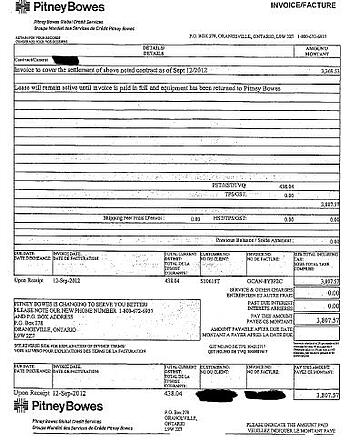 What a surprise to my client when the invoice was $1098.38 more than the total of payments due on the contract! Worse, the invoice that cost $50 to receive wasn't even itemized.
So you might ask me "what are the gotcha clauses" that Pitney Bowes feels they are entitled to.
After my upset client got back in touch with Pitney Bowes "Customer Loyalty Agent" our client was told over the phone that the items inside the invoice were:
3 quarters payments

plus a $250 machine pick up fee

PLUS what they call early "termination fee" even if you are paying your entire contractual amount in advance
I would be inclined to feel a little gouged at this point. Here's why:
The $50 invoice was not itemized, so who knows what you are paying for?

The inclusion of a$250 fee for pickup, without giving the choice of paying to shipto the PB return location. (This option was supplied after the invoice had already been sent out when addressed by our client- Our client could have boxed up that same machine and sent it back for well under $250)

No definition of what the rate was for the three quarters. (I would like to know if Pitney Bowes is still charging valueMAX insurance, which is only required if you don't submit your own insurance provider and is needed while the machine is on a Lessee's property.)

Unspecified Early Termination fee
I am not a lawyer, but when paying off the amount owing it's just paying in advance. I personally cannot find anywhere in the Pitney Bowes contract that said the customer couldn't pay their bills early. Termination fees are something that are often challenged.
"Consumer interest groups have criticized termination fees as being anti-competitive because they prevent users from migrating to superior services." (Wikipedia)
So let's do the Math on the invoice:
3 quarters @ $799.16 = $2397.48 + Pick up charge of @$250= $2,647.48 + HST on the payments = $2,959.15
Pitney Bowes Invoice was for $3807.57
A difference of $848.42 for paying your bill before it is due (early termination).
Can Pitney Bowes do that? I guess so because they are trying. In YOUR opinion is that gouging?
In my opinion if it looks like a bully, acts like a bully and smells like a bully then maybe it just might be a business bully.
What do you think?
Your comments are welcomed below...
Joanna W
Joanna W is a Customer Relationship Manager with Leppert. She specializes in postage related products and services.
Photo Credit: By informatique / William MurphyHappolati at de.wikipedia [CC-BY-SA-2.0 (http://creativecommons.org/licenses/by-sa/2.0)], from Wikimedia Commons