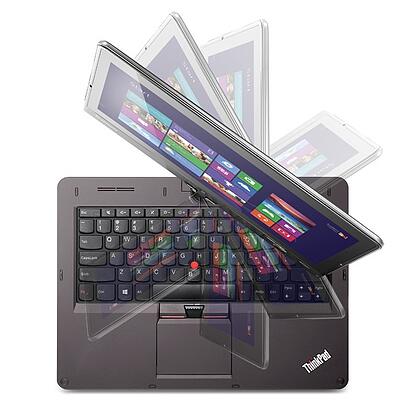 Lenovo has launched the ThinkPad Twist as a unique version of a Windows 8 Computer for those who really need a flexible form factor.
The really different thing with this unit is the ability to turn the screen to multiple positions including collapsing it on top of the built in key board to use it in a tablet mode. The keyboard is a spill proof unit and makes it easy to do most actions where a keyboard is going to be needed. Multi touch capability permits the screen to be used interactively as well as with keyboard commands.
The ThinkPad Twist is not a true tablet as it runs the Windows 8 Professional 64 software not the tablet based Windows 8 RT. It does however offer many of the tablet types of functionality in a powerful computer package.
Key specs:
ThinkPad Twist (S230u) Key Specs
3rd Generation Intel® Core™ i5 3317U processor

Genuine Windows® 8 Professional 64 bit

12.5" HD LED display with IPS for nearly 180-degree viewing angles

500GB HDD and 24GB mSATA

4GB DDR3 memory

Two USB 3.0 SuperSpeed ports, mini-HDMI, mini-DP, and a 4-in-1 card reader

Bluetooth, 720p HD camera
Check out the introductory video to see how it works.
The ThinkPad Twist Windows 8 Laptop can be a very flexible solution for power users who need tablet capability with laptop power. Down load the ThinkPad Twist specs.
Have you looked at Windows 8 computer options? What are the features you most desire in your next portable computer?
Share your experiences below...
Lee K
Photo Credits:  Image - Video:  Lenovo Canada