In a recent release the Canadian Chamber of Commerce has raised questions about provisions in the regulations which have recently been released as part of the
Canadian anti-spam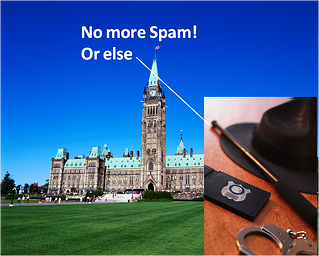 legislation.
Under the regulations all emails, SMS texts, & social media sent in a commercial context are captured under the act. A sender is obligated to get consent from the recipient prior to sending any commercial electronic message. The practicality of this is really hard to imagine.
Every commercial organization using electronic messages will be required to maintain a data base of all contacts who have elected to opt out of messages including the details of any relationships between the parties.
In the Canadian Chamber's view the penalties are excessive including rules which provide powers for private parties to sue under the legislation.
At the present time the regulations have been published for public comment prior to their finalization so the legislation can be implemented later this year. The 30 day comment period is underway now.
Read more of the concerns expressed by the Canadian Chamber.
Everyone finds unwarranted email and other messaging frustrating and problematic. The ease with which it can be sent makes it hard to handle, however using good anti-spam software can help you manage the way you deal with incoming messages.
In the effort to protect the public and commercial enterprises is it possible that the government has gone too far?
While I don't condone spam and I try to be sure that any messaging I send is such that the recipient will receive value from it, the potential to inadvertently send a message to someone who has decided they don't want it is very real. That is what unsubscribe lists are for. That is why you put unsubscribe in your messaging so that people cna elect to change their mind about corresponding with you.
I find it ironic that we still get unsolicited mail in our mail boxes after decades of trying to control it. We get bombarded with all forms of advertising every day, from on screen, billboards, on sides of trucks, in print, and electronically. There are some controls on this activity but they do not outright stop it and require a data base of those who elect not to receive this information.
Why is electronic communication so different?
The implications of this legislation are serious for a large number of organizations, including businesses, not for profits, charities, associations and foundations. Every one of these will have to put processes in place to work within the restrictions provided in the new regulations.
Learn more about the new regulations
This is an issue that every business that uses electronic messaging to communicate or to advertise will have to address. It is time to do your homework and if you have any concerns put your input into the process. The Canadian Chamber of Commerce release has suggestions on how to do this. Check it out and respond.
Is electronic messaging an issue in your business? Do you have processes to manage it? Would tracking your recipents wishes be a challenge?
Comments are welcomed...
Lee K