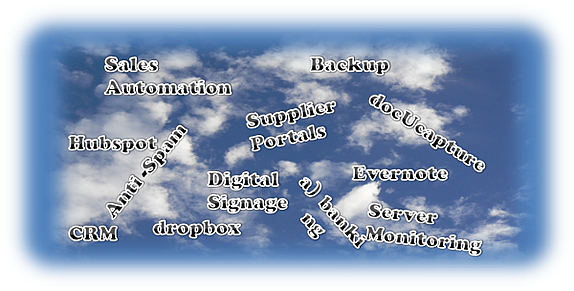 Cloud computing has been a hot topic in the I.T. management world in the past couple of years. In many instances I find that when cloud computing is considered people only look at their office software, email like exchange or servers.
In this blog I am going to cover a whole list of ways that cloud software is impacting our office. I think that if you inventory your operation you might be surprised at how cloudy you might be as well.
Server & workplace monitoring is done on our network by a service from GFI. We use this portal based software to support our clients networks as well. It has extensive monitoring and management capability which is constantly being upgraded and expanded.

Roaring Penguin software is used to provide anti-spam filtering on all of our incoming email substantially reducing our mail volumes into our Exchange server and spam hassles for our users.

Storage Craft web based backup software for off site server backups as well as server snapshots on a frequent basis, multiple times per day.

AddressTwo CRM for our company wide CRM (customer relationship management) data base.

Amacus sales automation software designed to facilitate client and prospect interaction to provide a simplified and clearly understandable process in what can become a complex area of business.

Hubspot website hosting, blog hosting, email management, lead tracking, performance analytics, and CMS (content management system).

docUcapture electronic records management system for all of our client files, AP files, leases, general correspondence, supplier price lists, vendor agreements and miscellaneous records all stored off site in a data centre securely.

Supplier portals for each of our major suppliers and some secondary ones for product information, training material, price information, marketing tools and for ordering systems.

On line banking portal for most banking functions as well as for payments inbound and outbound for select accounts.

Leasing company portals for managing our lease portfolios on behalf of clients.

Personally I use dropbox for personal and business convenience to access records and document templates from multiple computers and my Android tablet.

Again personally, I use Evernote as my 'pile and file" tool to keep links, ideas, reference materials, blog article extracts and meeting notes. These records are accessible from multiple locations so I can use my tablet, home computer or desktop to access the information.

Strandvision digital signage software to feed our lobby sign and the news page on our website. Ideal for long term and fast changing information including new product announcements and product specials.
I'm sure I have missed a few other more casual categories but from the list above you can see that the cloud provides a substantial amount of valuable resources to our business. I think because we are in the office technology business we might be a bit more aggressive in using these services, but the balance of our I.T. network infrastructure is fairly traditional with inhouse SQL server running our ERP system, windows based server, Exchange email and Office suites on workstations.
Cloud Dependant
As I reviewed this list and thought through the ways that we interact with clients, suppliers, resources and organizations it became increasingly obvious that we are dependent upon the 'cloud' for a great deal of what we do. Without the availability of these services the costs to put all of these tools into place would quickly be well beyond our means. By sharing infrastructure with other clients of these services our cost base is reduced and we are able take advantage of the benefits they provide to enhance our support to clients.
When you hear about cloud computing and wonder whether you should consider getting involved in this 'new' technology, think through your current operations and you may be surprised by how much you are already in the cloud.
What cloud based software do you run? What CRM do you have? What ERP do you use? How about email? What works for you?
Comments welcomed.
Lee K