Francotyp-Postalia Canada has recently added a new series of postage meters to its lineup of mailing equipment.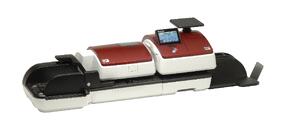 The new Postbase series offers three speed ranges, new software enhancements, flexibility of options, easier management of advertising formats and other convenience features. There's even an optional touchscreen all in one computer available.
Starting with the Postbase 30, 30 letters per minute with 3 kg integrated scale the series includes the Postbase 45 which comes standard with a semi auto feeder and has an option to upgrade to a fully auto feeder, and finally the Postbase 65 which is fully loaded. All three models have the ability to support differential weighing (standard on the 65 and optional on 30 and 45) if you frequently process a large volume of varied documents.
The video shows most of the key new features and even the varied choices of colour so you can match your decor.
Probably the most critical component of the new models is the built in high speed connectivity which permits the devices to be configured with an ethernet connection (analog phone connection is optional) to be able to access your postal account over the internet and using an office IT network. For any office worker who has had to struggle to make a phone connection to make rate changes or postal uploads this capability alone will justify the new devices.
As is common with all postage meters, the meter component of the Postbase series is only available as a rental. The meters are regulated by the postal authority (Canada Post) and you are not able to purchase this component. It will be possible to buy or lease the actual mailing machine from your dealer on various terms and plans.
Whether you like blue, black, red, tan or one of the final two colours, you will find a different way to work with the new Postbase series from Francotyp-Postalia.
What is your mailing machine like? Is it easy to use? What features would you want?
Your thoughts are welcomed.
Lee K