One challenge that is often not met by small sheet fed scanners is the ability to capture images from books and magazines or other bound materials. This new unit from Fujitsu targets just this issue (for video and other reviews please scroll down).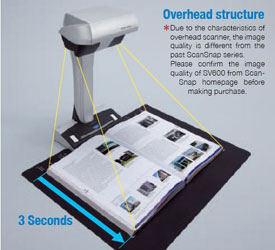 There have been book scanners for many years but they have largely been targetted to professional use and can cost many thousands of dollars. They have not been readily available for general use. If you needed to capture a scan from a bound book or other larger document your choices have been the glass on a multifunction printer, a flat bed scanner or a sheet fed document scanner that also included a flat bed option. All of these options have required the document to be placed on the device upside down making it much more difficult to handle.
The SV600 changes that approach with the use of a scanner mounted so that a book, a group of documents or a larger document can be placed below the lens with built in LED lighting and captured with a quick 3 second scan. This permits paging through a book more easily and also allows a collection of small documents to be placed and captured at once.
Software bundled with the device permit a variety of scan improvements including auto deskew, auto colour, greyscale and B&W detection and auto cropping of images. Further features are designed to enhance the unique capabilities of the device.

With the ease of handling it is conceivable that this special purpose device could be used as a multiple purpose scanner in a general office not just handling letter sized sheet fed material. For legal use, medical use or in offices where delicate documents must be captured the Fujitsu ScanSnap SV600 can provide a very flexible option.
The device comes bundled with several enhancement software packages including ABBYY FineReader for ScanSnap, Adobe Acrobat Standard, Card Minder, Rack 2-Filer Smart Document Manager, and Scan to Microsoft Sharepoint.
While the ScanSnap SV600 is not designed for a professional book filing system it does offer some unique capabilities for those operations which need the ability to handle scanning of hard to manage document types on a regular basis. It does so on a very cost effective platform with a Canadian MSRP of only $825.
Updated Jan 17, 2014 Further reviews:
SV600 written review from DocumentSnap
Unboxing and demo (in Japanese)
(in Japanese! and somewhat humourous, but surprisingly good at demoing features)
How have you handled odd sized and book type scanning? Has it been a challenge?
Lee K
Photo & video credits:  Fujitsu Canada, Fujitsu UK, Document Snap