One of the frustrations that many organizations experience when they decide to deploy electronic workflows as part of their document management is dealing with signatures on documents.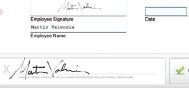 Whether they are sales contracts, employment records, proposals, legal contracts for real estate or any other document needing a signature the ability to complete the transaction with an e-signature can improve the process.
Think about a multiple level expense report where a couple of levels of management might need to sign off before the processing of the expenses. Without these approvals the expense cannot be handled by the accounting office and people are delayed receiving their re-imbursement. In the traditional workflow the report has to be turned into paper and then routed through the hands of each of the signing authorities, physically distributed to the accounting office and finally paid out. Often a long and frustrating process for all the parties.
With electronic routing of documents through an organized workflow coupled with an integrated e-signature tool it is possible to put more control into the process, speed up the handling and make it simpler for each party. Of course both the workflow tools and the e-signature software need to be present for this to work.
Formal or informal e-sigs
For early adopters of these kinds of processes work arounds using signature proxies, estamps and other more adhoc tools were used to be able to carry out the signing process.
As practices have expanded and the acceptance of electronic documents has grown the need for more formalized and structured e-sig tools have become necessary. Issues of security, reliability, tractability and quality of signature have driven the development of better and more flexible solutions.
One such solution is RightSignature a product that is part of the Citrix product groups.
Here's how easy implementing this kind of technology could be. Of course there are several products which can accomplish this task but this is a good example of one which does not require you to implement a complicated software system into your environment.
Ready for some e-signature processing in your workflows? Perhaps it is time to consider how efficient this can be.
Lee K