Last week the Pan Am Games got started in Southern Ontario including Toronto, Milton, Hamilton, St. Catharines and Welland. As a precursor to the the games starting IT World Canada published an interesting slide show featuring innovations in technology that have affected various sports. These first time uses have morfed into regular part of the sports shown.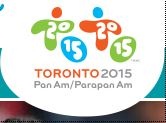 One of the features of the slide show included what components of computer technology the games require. How about 2400 workstations (desktops and laptops), 2300 monitors, 50 servers and storage solutions spread across the 40 venues? That's is a pretty massive collection of tools which are assembled just to keep a short but big event running.
What other things are affected by the Pan Am? How about the drivers who now have to deal with more and less accessible HOV lanes? Will the GPS technology that provides real time traffic data to users help them get to work or to event parking be a help? This is something that gets taken for granted but the technology behind it is pretty impressive. Google offers similar capability through Google Maps for cell phones. The system of highway cameras run by MTO will also help. Of course there is also the temporary camera system being used to police the busiest highways to ensure people are following the rules as well. Watch for the solar panels and the orange boxes along the HOV routes.
Employers are being encouraged to provide flexible work rules so that employees are not forced to be on the roads at the same time as Pan Am fans. Flexible starting times, closing times and the ability for people to work from home are some of the steps being taken. Each of these has a technology component (information sharing systems, remote computer access, email, chat) that can help facilitate activity and keep people connected even if not in the office at the same time.
Of course public transit is a big part of dealing with the potential crowd issues and we all know that schedules, system operations and consumer information require big technology components to make it possible to handle the volumes of users. There is a tool available called Triplinx that can help you plan public transit use.
Then there is the ticket process. Most of those who will attend the many events and venues for the Pan Am Games will have accessed some information site to obtain information, buy tickets or get directions to their chosen sport. Technology drives the ticket process from beginning to end.
Most of us take the underlying technology that helps our modern society to function for granted. When major, short term impacts are created like the Pan Am events we can definitely be thankful that it is all there and functioning (usually very reliably) in order to keep our daily activities flowing inspite of the potential increases in volume of people moving.
Enjoy the games.
Lee K
Photo Credit: Pan Am Games Toronto 2015