Tablets are becoming power tools for many businesses. The challenge is to decide which to support either the Apple series or the Microsoft Surface series.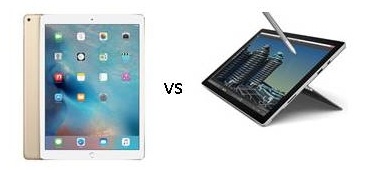 In the consumer market certainly iPads in their many versions dominate simply because they are easy to use, have tons of apps available and familiar. The challenge they sometimes present in business however is their compatibility with software packages like ERP systems and others which are largely Microsoft OS based and often the main tool of a business.
Microsoft Surface products on the other hand are designed from the start to work with Microsoft software packages and thereby reduce or eliminate many of the issues of compatibility with common business installed systems.
Of course the use which the business is going to make of the devices is a big factor in a decision. If it for video presentations and client focused information display. In this case the iPad with its reliable screen and interface can be a good solution.
If it is sales reporting, access to pricing or inventory levels then a device which easily interfaces with office installed systems becomes paramount and the Surface Pro may then become a better choice.
Best Buy Canada shows an iPad Pro with Wifi and cellular capability selling for about $1430 without a keyboard (must use the virtual keyboard.) Adding a blue tooth keyboard if there is to be a fair bit of typing needed would increase the cost.
A similarly equipped Surface Pro 4 can start at about $1280 and go as high as $2350 depending upon the processor and Ram size. These prices are for Wifi only without cellular. Keyboard cases or keyboards would be extra as well.
IT World Canada has offered its take on the choice which follows the comments above. Multimedia and the iPad may offer more while the Surface Pro can fit better into the typical business office environment.
Is the laptop dead?
One question to ask is whether the laptop is dead. Have tablets become so powerful and large enough that they can outstrip the need for a laptop. The answer to this is the typical technology answer, it depends.
It depends on how much portability you need. It depends on your ability to keep a tablet charged and ready to go since one of their key benefits is the ease and speed of start up. Of course with solid state drives in many of the newer laptops they also have rapid start up features.
One deciding factor may be storage needs. Laptops come with big hard drives these day and if one of you needs is to carry with you large numbers of documents or files, lots of presentations, then the laptop may still be your tool of choice. While large tablets can boast 128GB or even 256 GB of space this is not their usual reason for use. The portability and speed are their power reasons.
Oddly, unless you are a real power user of a laptop you may find that the tablet is more costly than a laptop which could meet your needs. This seems to be a reversal of the traditional situation where tablets were the lower cost alternative.
Portable computing and remote connectivity are a given in most businesses these days. The many options that people have to carry out their work create challenges for IT departments to keep up. On the other hand the ability to efficiently get work done no matter where you is a key part of many business's competitive environment.
Lee K