At the risk of seeming simplistic it is possible to describe some of the reasons for the latest US Election results and the Brexit vote in the UK as being victims (or successes) of technological change. Many people who voted did so because they have felt left out of the benefit which a changing society has been bringing forward and sought a shift back to a previous environment.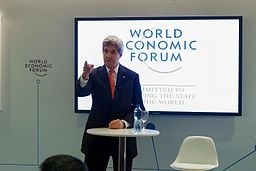 Many of the ills that were attacked in the debates during both of these major political events related to the sense of dispossesion that is felt by people who have been affected by shifts in employment patterns which they feel are out of control.
While often the bad guy is classed as globalization the real shift in many instances is the result of significant technology changes as production moves to a more mechanized world through automation and application of newer technologies.
At the latest World Economic Forum meetings in Davos, Switzerland, there were reports given that addressed some of these issues with the impacts of large technology changes as seen as one of the culprits for dispossession.
"Trade is not to blame for job losses." The real problem, according to Kerry, is automation." is one of the quotes attributed to outgoing US Secretary of State, John Kerry.
It appears there was some serious introspection that occurred during the discussions with wide ranging understanding of some of the issues caused by rapid and ongoing technological change while also acknowledging that solutions for dealing with the downsides are not easy to find. Read through some of the comments and ideas discussed in the link article and you get the feeling that the challenges are going to continue and unrest is not going to go away.
Cyber Security
Another area that was touched was the management of cyber security in organizations and the role that government bodies must take in dealing with these threats.
To help organizations better equip themselves for managing the risks of cyber challenges a new document was released at Davos to help provide guidance and some structure for responses. Advancing Cyber Resilience Principles and Tools for Boards " the product of an extensive process of co-collaboration and consultation, has distilled leading practice into a framework and set of tools that boards of directors can use to smoothly integrate cyber risk and resilience into business strategy so that their companies can innovate and grow securely and sustainably," as excerpted from its introduction is designed to help organizations grapple with this important challenge.
The Davos conference is billed as a world leadership event designed to permit broad and challenging issues to be discussed by those who can take action to impact them.
The continued world impact of the technology evolution/revolution which has been underway for the last two generations is clearly a topic which merited their discussions. What comes of them will be seen in the months and years ahead.
Lee K
Photo Credit: By U.S. Department of State from United States [Public domain], via Wikimedia Commons