One of the things we all know about our social media and internet activity is that it creates a large volume of data for the businesses who's tools we use.
Through a joint venture of three organizations including a research lab at the University of Toronto people can access a tool which helps them request information from various companies who may be holding data from their activities.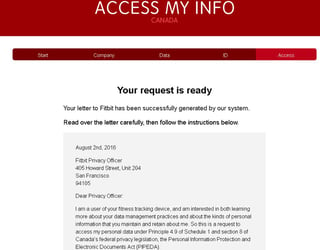 Data generated by personal fitness devices, telecommunications use (mobile phones), dating applications and government of Canada agencies are some of the categories the project targets.
Working through a public site called Access My Info, you can select from types of companies you wish to engage and the tool assists you to generate a preconfigured letter which can be sent requesting a privacy report from your vendor.
Types of data (not exclusively restricted to these), which may be requested include:
Geolocation data
Health and fitness data (request if from a Fitbit letter)
Mobile app data
IP address logs
Disclosures to third parties
Subscriber information
Any additional kinds of information stored or collected
For other types of activities different data may be requested, but this list gives some idea of how comprehensive the request might be.
You are then given a choice once your letter of request is created either to send the letter by email or through a postal mail (address provided) by printing a pdf of the letter.
System makes engaging easier
Of course anyone has the right under Canadian privacy legislation (PIPEDA) to request this type of information from anyone who might be collecting personal data about them. The difficulty in doing this is you first have to figure out where to make the request, get a proper contact address, and then draft a suitable request letter to make this request appropriately, referencing the applicable provisions of the legislation to support your actions.
Only if someone has a serious concern are they likely to go to all of this work to get their data.
using the Access My Info tool makes it much easier to make a request or a series of requests as much of the homework has been done for you.
Of course the downside of such a system is that a lot of people might make requests just out of curiousity causing a fair amount of costs to businesses being targeted. A partial protection which is built into the tool is the requirement for you to do each request separately providing suitable credentials to identify yourself to the vendor. This will mean that people are going to still have to take some care in contacting their suppliers.
Use of private information an issue
The public is concerned about how private information is collected and used. To the extent that a report from a survey done by the Canadian Privacy Commissioner's Office last year indicates that as high as 43 percent of the respondents had decided not to do business with a company due to their concerns over how a company handles their private data.
A tool which helps consumers get reports from their suppliers about how and what data is being collected has merit and it will be interesting to see how this plays out in the coming months.
Lee K