In a 2014 study or the levels of use of Account Payable automated systems respondents indicated that paper invoices remain a big part of their payables operations. 70 percent said that at least 50 percent of their invoices are still being tendered in paper format and less than 9 percent said paper invoices are less than 10 percent of their total volume.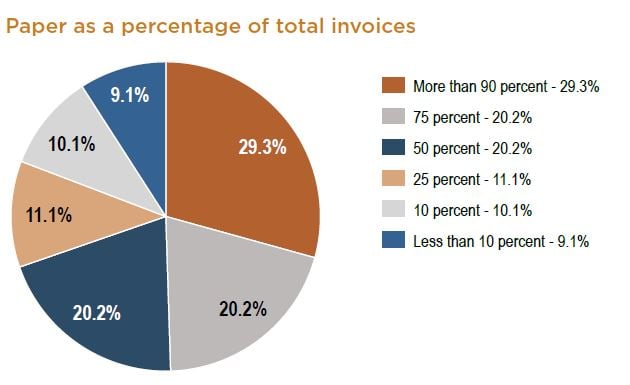 This shows that while there are trends to a more electronic invoice regime in business handling paper is still a big part of this important activity.
Finding ways to improve this process and being able to deal with a mix of electronic and paper invoices has the potential to significantly impact all sizes of business.
13 reasons to automate AP
Reduce missing or unpaid invoices. Losing invoices and not paying suppliers is obviously a critical problem for any business and can lead to poor delivery timelines to customers, lost sales and increased fulfillment costs.
Reduce lengthy processing and approval processes. Being able to turn around invoice payments efficiently and with limited handling can save costs.
Increased capture of payment discounts.
Reduce late payment penalties by ensuring that approvals and payments are timely.
Increase trackability and cashflow management based upon better capture of invoice data
Reduce data entry time using automated captures.
Reduce paper filing, retention and purging costs.
Reduce impacts of human error.
Increase visibility of individual invoices and collective knowledge of multiple invoices.
Reduce overall processing costs.
Increase returns on available cash when used to pay early invoices for discounts. A 2 percent discount for payments within 10 days translates to an annualized return over 36 percent.
Reduce duplicate payment errors.
An easier process to automate than many other business systems leading to a faster return on investment.
While not a process that everyone is affected by, AP system changes are actually compartmentalized and this makes it an easier process change to consider. Given the nature of this category of business system the people who have to adapt to any changes are usually more easily trained and less likely to find the process changes hard to accept.
Manually chasing an errant invoice all over a company is a tough job for anyone and showing another way to accomplish this type of work is going to be easily seen to have value by those who have to carry out the task.
One of the key reasons that these types of process changes have not taken complete hold has been the difficulty of obtaining budget and resources to implement.
With tools available using SaaS (Software as a Service) capabilities can assist organizations to be able to implement this type of targeted process change without the need to commit large amounts of IT resources.
Most of the components of an AP automation support system are often already available within many organizations and only need the integration with the AP management software and perhaps some workflow tools to be able to build a working solution.
Automating the AP process has the ability to reduce the average cost of paying invoices and this can help improve a businesses overall bottom line without requiring a wholesale change in overall business processes. This kind of targeted administrative gain can be a great way to improve your business with limited risk.
Lee K
Photo Credit: 2014 AP Automation Study Published September 2014 Copyright © 2014 by The Institute of Financial Operations