When 3D printing was first talked about what we saw was neat production of small plastic parts that might be used to assembly a toy, a display or some sort of interesting art object. Today this type of use is become pretty mainstream with small 3D printers being introduced for home or office use either for educational benefit or for design display.
Even Walmart is into the game offering a custom ornament which you can order online (after buying a $10 store card to get the order code) and customize with a name up to 12 characters.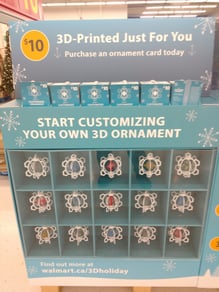 Innovative uses abound
In the past few years this technology has become much more and there are some really fantastic uses that are starting to evolve.
Even a new name has become common as the term Additive Manufacturing gets applied to many current uses. Using many other materials than simple plastic businesses are able to use the techniques of 3D printing to make specialized tooling at much lower cost and much faster than traditional methods would allow.
A recently published UPS report indicates that this industry has become a $73 billion market with applications in hundreds of fields of manufacturing. In addition there are rapidly growing uses in Medicine and Health Care, architecture and other building fields, and automotive and aerospace.
Some of the reasons this expansion has occurred centre around the new materials that the additive method has been applied to.
Where the initial ideas were a simple extension of the typical laser printer technology of applying toner to paper and then using heat to fuse the two together, the new additive technology uses many other kinds of materials,layered in finely defined passes to build up the resulting product.
In one recent exposition a London based company used specialized robotic arms with print engines attached to build a massive 3D pavilion which permits people to walk into the display while it towers over them. By combining the 3D printing model and artificial intelligence software to control the robots they plan to be able to build complex structures previously unimaginable.
Human organs a goal
In a recent TED Talk an Australian medical researcher demonstrated how they are developing the tools to create complex human organs to deal with the back logs of transplants needed. Showing how the technology could be applied to create a human kidney (still experimental but getting closer) and how already the technology is being used to items like heart valves, he wowed the audience with the depth of application which can become available.
What on the surface may seem to be the stuff of the future and something that is out of the reach of all but the most out on the edge companies is rapidly becoming much more mainstream and practical. Look at places within your business where short run, special pieces might be of value. Where have you wished you could have a product, tool or device which could save you time and money only to decide it is too costly to acquire or produce? This is the type of products that 3D printing can potentially provide.
Using different materials many which provide superior strength it is now possible to build one off (think of that personalized Walmart ornament) pieces to address specific and unique needs.
Take a look at 3D printing and see if it holds promise for you.
Lee K