Last year AIIM the industry association made up of information specialists, sponsored an interesting paper which looked at the paper focused business processes. One of the key themes of the document is that while paper storage for internal documents has gradually grown to become electronic filing in many instances the processes needed to deal with a myriad of incoming paper still gets little focus.
Paper reduction seen as good. Action plans lacking.
In the research program which is reported in the paper one of the key findings was that for 74% of the participants paper reduction was a part of business process initiatives that they were running. The startling follow up was that only 24% of these companies actually had a policy or maxim to drive paper out of their systems.
What does this mean in real life? I would interpret it to mean that while the reduction of paper is seen as a good business strategy, turning that idea into a specific objective with measurable goals is not often done. The data does not materially differ with company size either. Small, medium and large businesses responded with almost the same level of commitment to these objectives.
The AIIM study documents the top issues associated with paper based processes: time spent re keying data, searching for documents and filing. Don't these sound awfully familiar as issues which have plagues offices for years and years. Several additional issues came out of the report including: storage issues and outsource paper costs, "lost" paperwork or case files, and compliance and audit issues topped these.
Top reasons for not moving to paper free processes
The answer to the paper free questions were topped by three interesting responses: physical signatures on paper are mandatory, too much investment in scanning and capture needed, and legal admissibility will be compromised.
This result shows how little most organizations really know about the legalities of paper free processes since the international standards around signatures and legal admissability have been established for over ten years according to the authors and in many instances approach twenty.
Who resists the change?
When the respondents were asked which departments or roles would be most resistant to paper free processes and which would be most for a change the data is not surprising. Resistance is strongest in legal, finance, finance admin and line of business departments. The support of paper reduced processes is strongest in internal business process consulting, IT operations, records management/compliance offices and the C suite. Of course in each of these areas there are those who hold the opposite view but the data shows that these general categories reflect the real world environment.
What about scanning and capture?
There is some very telling commentary on the paper capture process in the businesses surveyed. While over 70% are using scanning in some mode only 13% are using optical character recognition (OCR) technology for data extraction and input. 15% extract some data from the scanned form or document (could be manually pulled from image) but most of this is used for routing information or indexing to direct the document through a work process. 18% scan the form and then route it in a flat image format for distribution.
The bulk of the scanning done is used to create an archive at the end of the process for storage. My personal experience tells me that this is what was commonly done by early adopters over 20 years ago and it does not indicate a substantial volume of maturing of the use of the technology in that time. Again the differences of the sophistication of the process are not substantial with about 11% of the small organizations using capture and OCR processes and only 16% of the larger doing so. That difference is not very much and shows how much room there is for gains to be made in all sizes of organizations.
Top two benefits reported
When the survey talked to those organizations who had implemented paper free or low touch business processes the top two ROI or benefits identified were the ability to meet compliance standards fostering good audit trails and faster customer response (either internal or external). Pay back periods for initiatives undertaken were generally reported to be under eighteen months with many under twelve. The success rate for initiatives was very high with less than 5% reporting initiative results ratings of less than very good.
This kind of result shows that when businesses address these issues they do achieve significant gains, however the inertia and difficulty of building the up front case often means the projects don't get off the ground.
The AIIM paper concludes with a series of very interesting and challenging recommendations and with a final proviso that all businesses must consider.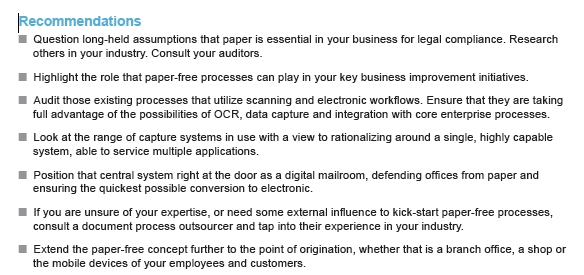 "Above all, question how your organization is going to remain competitive in a mobile, always on, dispersed-workforce world if it clings to its paper-laden processes. Most businesses have hundreds of processes. It will be a long journey, but the benefits are clear, and the sooner you get started the faster you will realize the returns."
To download your own copy of the AIIM review and summary paper including the detailed charts and graphs go to AIIM Industry Watch reports.
This article summarizes and excerpts only a small piece of the information available in this review document. If you are concerned about how to keep your business competitive in a highly mobile and faster paced world it is a good resource for consideration. There is much to consider and think about in this short document.
How paper focused are you? Have you been able to move to more streamlined paper or non paper processes?
Perhaps it is time to consider your processes now.
Lee K