The sale of the Pitney Bowes imaging division to Konica Minolta changes some of the dynamics of the market for their customers significantly. PB sold primarily the Sharp line of copiers / MFP devices. Now that these contracts are going to be in the hands of Konica Minolta there will be some changes in store for the customers currently running Sharp devices.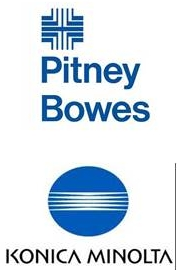 Many of the tactics which will be used to try to keep, move or change the customers devices especially when contracts come to an end have been tested before with previous industry buy outs. When Ricoh bought out the IKON business it was not long before their was a tremendous push to get customers to change over Canon product that IKON had sold them to the Ricoh brand products. Many were encouraged to do so before their current leases ran out which potentially had them incurring double financing costs (depending on the level of incentives they were able to get). It also didn't take long for Canon to start making it difficult for Ricoh to buy parts for Canon machines that were still in the field from IKON sales.
It can be expected that similar things will happen with the Konica Minolta buyout of PB's imaging division. Previous PB customers are going to be enticed or pushed into replacing their Sharp equipment with Konica Minolta product. Of course one of the reasons that will be pitched is that the Sharp printer/mfp division had been rumoured to be for sale in recent years as Sharp attempted to restructure its operations. This did not occur but you can be sure that Konica Minolta sales teams will be outlining the vulnerability for disruptions that customers using PB Sharp devices could potentially incur.
One option which any customer has is to take the decision to look at the market and try to move to other brands which may be more stable and which are not in this shuffle. Brands like Kyocera and others which offer a solid dealer network (PB was really just a large dealer for Sharp) may offer a choice for a more stable environment if customers don't wish to get caught up in the changes the buyout will encourage.
Changes to PB mailing as well
It is interesting to note that PB has decided to sell this division and concentrate on its mailing business without the imaging component. As part of the deal Konica Minolta corporate offices will become dealers for PB mailing in specific markets in some provinces. Since the PB mailing business has been largely a direct sales operation in Canada this will introduce some further questions into the mix. With the other mailing vendors having a primarily dealer focused channel (with the exception of a few large urban areas) this may give them a shot at capturing some market share as well. Customers are often hesitant to go into longer term agreements when they see this kind of corporate shuffling going on and most mailing agreements tend to be for the long range of traditional business equipment terms.
Consolidation seems inevitable as industry changes
As the print industry continues to change, largely due to significant changes in the way businesses approach the printed page, there is the potential for there to be further consolidation of vendors in the market place. There is a trend especially in the US for large regional dealer groups to be bought up by manufacturers as a way to grab market share and keep their factories producing. Every brand is actively trying to figure out how to keep their print device sales growing and as they convert to a more software and systems focused market.
Buying the business of smaller players like PB is one way to attack this type of growth as long as in the process they are able to retain the current contracts. The level of erosion which occurs with the brand transition will be one key measure of the success of the strategy.
How do you respond to the sale of one of your suppliers? Would it cause you to look for alternatives?
Share your thoughts...
Lee K