Here is the poop you need to know before you scoop!
The Basics:
There are 3 manufacturers authorized to provide mailing meter sevices in the Canadian Postage Industry.
It a very competitive market space and the mailing industry has a somewhat hard selling style that can be sometimes confusing. Tactics used to get you as a potential client to sign on the dotted line can sometimes be pretty sly so its best to be aware of what is happening and to use some caution.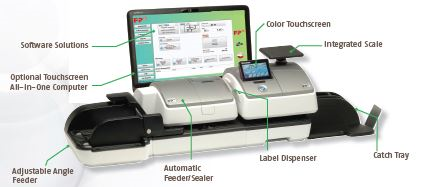 One of the three manufacturers (Francotyp Postalia) chooses to use dealers in the majority of servicing areas in Canada instead of direct sales operations. (Full disclosure: our dealership represents Franctyp Postalia - FP).
As a dealer, we get asked by people as to why they should not just go direct via a manufacturer?
Why use a dealer? Won't you be more expensive?
There are a number of advantages to using an independent dealer.
In summary: finding stuff these days isn't the challenge, understanding, using it, plus having knowledgeable people to help to assist you is the challenge today.
And as to the idea that using a dealer is more expensive, the answer is often NO. Especially when combined with an approach that reviews your current contracts and looks for creative ways to reduce frustrations, risks, and find productivity, time and cost savings for you.
As a dealer our overview is much broader and objective. We are centered on the client's needs and not what a manufacturers wants or needs to sell you. It is important to us to build trusted relationships. As an independent dealer we view your business needs from a wider prospective. Our advice on your postage needs has to hold water because we do more than just mailing equipment. We help analize your document workflows and look for ways to assist or optimize with print and document management strategies compared to the mailing vendors who only do mailing. Even Pitney Bowes now only sells mailing as they have sold their document imaging division.
Speaking for myself, my Dealership believes and mandates the staff to always look deeper on behalf of the client. If you want to be confident in the postage machine you are investing in, and not encounter unexpected surprises here are some things to look for:
Where are you (obligation wise) on your present contract? This can be an issue because most manufacturers' mantra is "there is no better time than the present" to upgrade you, vs. if your contract has not yet reached end of term yet, in fact, you may actually be paying dearly for that privilege. Normally what happens is they just take your unpaid balance and forward that into the new lease agreement. Interest piled on top of interest is not a good savings strategy.

It is important to analyze contracts and come up with a plan that can phase in the new product choice without costing you additional monetary penalties. Did you know some vendors charge early termination penalty fees?

If you are renewing, beware of the manufacturer that just goes with the status quo equipment refresh matching 'apples to apples', without any further analyis of your changed needs. Technology over the last 5-10 years has changed dramatically, with the impact of cloud and more conversion to digital content vs. paper, so the way we are using it has changed too. Chances are this fast, easy approach often favoured by the manufacturers' rep to offer you a parallel replacement machine without qualifying any other questions or business process needs, will cost you money. Taking the time to do a review of your needs going forward can make sense and save you money or at least ensure your choice matches your future needs not your past ones.
It is important to conduct an analysis of your mail volume, where you are posting it to, ie Local or international, and what kinds of mail you are posting (regular mail, registered or parcels).
As a dealer we find it valuable to do a comparison report, taking in the total cost of operation and making the results available to our prospective clients. In the world of postage machines, the initial price tag does not always reflect the total end cost of operations. What you might think was a good deal could end up costing you substantially more than you bargained for.

Here is how: you need to also compare anticipated mail volumes against consumable costs, and figure in extra fees hidden within the contract to make sure you are buying the right equipment for what is most practical to you.

The added fees that can cost you more come from confusing terms like "reset fees", "Canada post rate changes", "Data transfer fees", Digital Access fees, "Administration fees", "Service contract monthly minimum fees", as well as the actual Consumables Costs i.e. ink cartridge yields and frequency that you will need to change them. Did you know that some manufacturer's consumables are time stamped so they only last a given period, even if you did not use all of their yield.

The cheaper machines on the market almost always have a much higher cost of ongoing operation. Before you think 'we can get along with a lessor unit to save money'; make sure you don't end up paying more vs. choosing a little more robust machine that would have lower overall running costs for you after factoring in your consumables.
A comparison report with a total cost of operation it helps clarify your choices and is designed to give you all the information without any after the fact surprises.
So having an ally to assist you in your research in getting the goods on your prospective postage machine will make you more informed and help you feel less like you stood in POOP after the fact!
If you have questions feel free to ask I am happy to oblige.
Joanna W