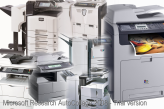 Getting a new MFP? Should you buy it or lease it? There are as many thoughts on this topic as there are finance people in businesses.
Our experience tells us that most businesses tend to lease MFP (multifunction printer) products as they see them as an IT related tool that only has functionality for a limited time. Since the technology continues to change, having an older device in your office does not necessarily make sense. In our practice about 85% of our clients lease. The average lease term is 48 months, although there is a growing trend to 36 for those who refresh their IT tools faster.
So why do most people lease?
The first reason is this is an easier means to access capital and it does not generally affect bank borrowing and other capital sources. A lease is like instant cash flow for a larger purchase.
Secondly, most jurisdictions treat an operating lease as a direct business input cost and their is no need to capitalize the acquisition. In Canada, for this to be the case there must be a reasonable residual value left at the end of the lease. This means lease to own deals might not be accepted as non-capital acquisitions.
A lease forces a review time. With a lease there is a periodic review as to the continued suitability of the MFP as the lease comes to its end. Often you can have an option to continue a lease or to buy the product at termination if you still see value in the device. You also have the opportunity to walk away and obtain an new device, without penalty.
So why would someone not lease their MFP?
Purchase value. If your need requires a small unit (under $1,000) then leasing would not be advised since the admin costs of this level on a lease would be too high. Better to purchase and amortize yourself.
They have excess capital or their cost of capital is substantially lower than the lease rate would provide. In this case the overall cost of the acquisition can be better served with a purchase.
You plan to use the device for a long term. Just like a car, if you decide you can make use of a device for an extended period, beyond 4 to 5 years, then purchasing can be effective. Remember however that the technology is constantly changing and especially with colour MFP's you could be giving up significant performance or operating cost benefits by stretching too long.
One final caution with purchase. Be sure to budget a proper amortization and cash planning process into your financial plans. We have seen too many times where organizations have purchased devices, not planned for replacement and then found themselves really stretched when the device no longer meets their needs. This often happens in the charitable and not for profit sector as their cash flow and capital plans are more variable than many businesses. For these kinds of organizations a lease may be safer as it equates the utilization time with the payment process.
So lease or buy? Your choice. Just understand the limitations and benefits of both.
So what do you do? What problems or benefits have you experienced with either choice?
Lee K

-8 Step Guide to Choosing Your Multifunction