A4 (letter/legal) mfp printers have been around for a couple of years now offering full functionality. The industry has debated whether they will eventually take over the market of A3 (ledger capable) mfps due to their lower price, smaller footprint and a growing focus on printing vs traditional copying.
The traditional copier vendors were slow to market with this class of device but now almost every one of them has introduced at least a few A4 sized products into their lineup. Other vendors like Samsung have started out their market efforts in the A4 field and will eventually introduce their own A3 products just to stay competitive.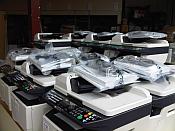 So why the move to A4?
The biggest reason has been price. Most A4 devices offer advanced features such as colour scanning and network fax at much lower cost than the traditional device especially when speed ranges are considered.
There have been tradeoffs for purchasers to make however. If your application has a high percentage of scanning or one to one copying (for each page sent through the document feeder a page gets printed) versus printing, then a traditional A3 copier based mfp may be better for you. Generally the document feeders on this level of machine are more robust than the current level of A4 devices.
On the other hand, if your use is largely print centric and you do not need advanced finishing features like booklet finishing then an A4 device might be ideal for your use.
A4 devices have tended to offer more speed for the dollar while making the cost of acquisition come down.
For us one of the first questions we ask clients when we discuss their new equipment is whether they need ledger sized paper. If not then consideration of the A4 solution is in the mix. Other considerations may move the decision back to A3 but for many clients the savings and performance gains are present with the A4 solution.
Do you need 11 x 17 (ledger) output? If not an A4 machine may be in your future.
Lee K