When people buy or lease a new MFP printer in our area, Burlington ON, the choice of the hardware is increasingly being affected by the related software which interfaces with the device. Most MFP's are able to meet the needs of users if they are sized correctly, have the options and accessories installed and the vendor matches them to client needs.
The differences in many cases are now the software components that are bundled and available to work with the MFP. Features such as scanning to e-mail, LDAP connection, inbound fax routing and customizing connections to productivity tools are now part of the equipment choice. MFP's are an onramp to document management and communication which provides leverage on the investment for the hardware. Your vendor should be able to help you choose devices which can do more than just print or copy.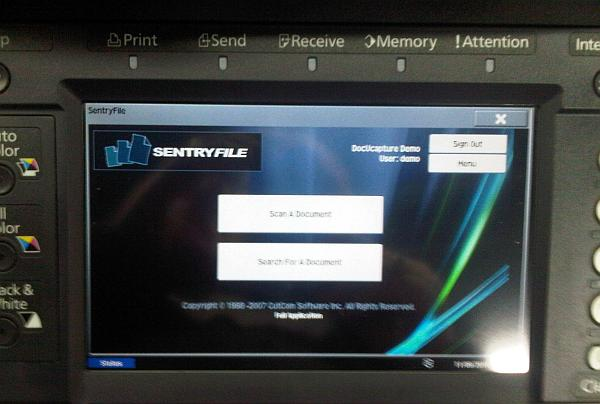 Using the Hypass connector on Kyocera TASKalfa mfp's we are able to connect our in-house SentryFile document management system so that users can directly load documents to the filing cabinets and even search cabinets for document retrieval right from the device screen. While the normal functions are still present, the ultimate productivity gains are provided by linking specialize software for more functionality and ease of use.
Each brand of MFP is going to offer their own tools designed to work with that brand, while many third party software tools like NSI Autostore, SentryFile, Paperport, and others will work with multiple brands of device. When you look for new print hardware it is a good idea to consider the related software tools as well. They provide new ways for you to better operate your office.
Don't stop your assessment at hardware only. Look for software gains as well.
What can you do with your MFP? How has it helped you in your office?
Lee K