Netaccess Systems is in the midst of finalizing a new IT network data centre in downtown Hamilton. A colleague and I had a tour yesterday with Netaccess President, Don McNally. The new site is pretty impressive and promises to be the most advanced data centre in Ontario outside of the biggest located at 151 Front St. in Toronto.
Security
Data Centres are all about security and reliable performance. The new Netaccess centre is no different. It has triple internet redundancy. 5 ways of cooling the data centre including special chillers that work over night producing ice and which then can cool the centre without compressors during the day.
An extensive
UPS
system is incorporated into the design, but it only has to support the installation for 10 seconds anyway because dual backup diesel generators automatically come on line within 8 seconds of a power failure.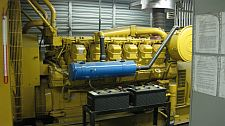 These generators have enough capacity to support the total load of the two office towers even though they really only provide emergency power to data centre operations.
How did this centre get located in downtown Hamilton? Actually the orginal installation of all of these systems was to support a disaster recovery site for one of Canada's major banks which used to be located in the office building. They no longer are tenants and the facilities sat unused until new ownership for the building realized what kind of asset they had available for the right tenant.
Netaccess was the logical user as they already had a smaller data centre in downtown Hamilton. Migration has been underway through the summer and the full operation will soon be finalized. It will combine a data centre and a telecommunications centre in the one site.
When we saw the scope of systems needed to make a true data centre viable we could understand how important proper disaster recovery planning can be.
Oh and when we saw what can happen when a real disaster hits we understood it even more...while touring the computer rooms we were shown a collection of servers which had just been rescued from a client's site where a major fire had occurred. Luckily the computer systems did not receive major physical impact and they were relocated to the data centre to get the client back in business...successfully helping them to quickly begin the recovery process.
An early success which would not have been possible without this new facility. Congratulations Don and team!
Congratulations also, to all of the businesses who choose to make use of this new opportunity in Hamilton...a backup or co-location centre which can have impact on businesses for kilometers around.
What is your disaster recovery plan? How comprehensive is it? When was the last time you tested it?
Lee K